How Businesses Can Make Use of Memes in Digital Age?
How Businesses Can Make Use of Memes in Digital Age?
If you ever were to be told of newsjacking making grand success, you'd believe, right?
But what about meme-jacking rocking marketing?
Boy, you're in for a treat!
Originally, the meme of Pikachu (a character from the 90s cartoon show called Pokemon), making a defiant face in a battle scene, gained much popularity, as people used the meme to narrate the funny things they did, which perhaps were bad ideas.
And the streaming giant, Netflix, used what was already famous among its target audience to its advantage while marketing its new release "Sabrina, the Teenage Witch." It drew a grey wig for Pikachu and described an awful thing that happened to Sabrina on the silver screen.
Netflix's viewers were able to relate to the meme on a more personal level, and their anticipation and thrill to watching the movie were unstinting. As you see, the results have been sweet.
So, don't deprive your business of the success it can amass through memes. It's now time to level up your game in this digital age!
Also Read – 7 Critical Steps to Selling Your Amazon Business for Nice Profit
Let's then start from the basics.
Defining Memes –
Hubspot, the parent of inbound marketing, asserts that "A meme is quite simply a concept, behavior, or idea that spreads, usually via the internet. A meme can be any type of media format, including a GIF, video, text-post, or basic image."
A meme manifests its wholesomeness in visuals such as images or videos. But they could also embody a hashtag, or a link, or some compelling texts, like an intentional spelling mistake.
So, it's no wonder that the most successful memes spread like wildfires. But how do you do it right?
Let's explore.
Meme-Jacking the Right Way –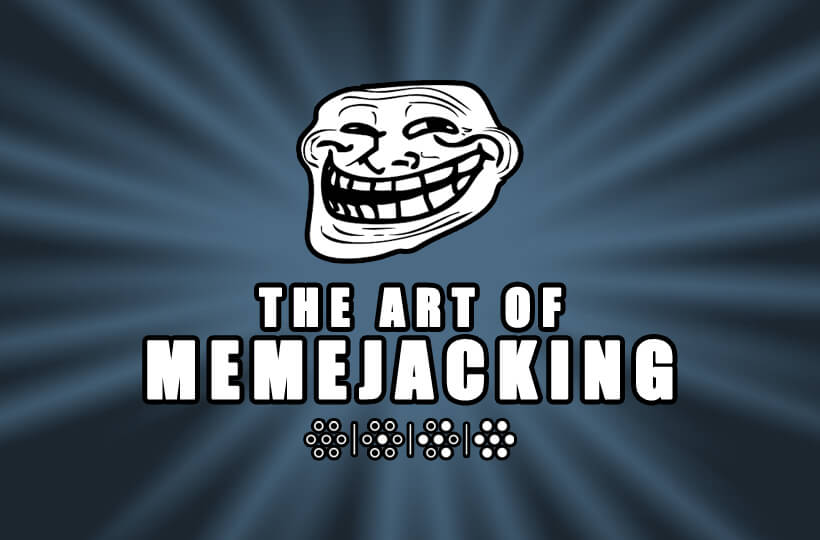 1. Echoing the Brand Voice –
Although memes appeal to your audience, you need to ensure that there is consistency in your brand voice. Sometimes, memes could be offensive or rude. So, you must walk the fine line while experimenting with meme marketing.
You should also understand that memes could be divisive. A meme that appeals to one segment of the audience may not appeal to the other. So, you need to define the specific niche and the community you want to address.
This would help you keep your brand voice intact as you define your target persona, and make relatable jokes to quickly move into relevant cultural trends. Hubspot's meme is a great case in point that mastered this element well.
2. Repurposing Your Meme Library –
When there's some meme viral among your target audience, you can leverage them to your advantage. But before that, you need a meme library in place. Swift through Giphy or imgflip to get your collection of meme templates, and add your original captions to make them yours.
You can also re-purpose an existing meme, by re-imagining dialogues from famous movie scenes. This would work well for you, if you're a newbie, for it would give you the outline for the jest.
As you add a funny comment, you wield the familiar piece to speak emphatically with your audience. Be sure to look for highlight moments from trending movies or YouTube videos. For instance, check out how Boromir's One does not simply is repurposed to address marketers.
3. Creating Your Original Memes –
Creating original memes might be challenging, but that's the key to establishing brand authority. Sure, it consumers more creativity, energy, and time, but the catch is in higher shares. With the help of meme maker software, you can easily accomplish this feat.
While doing so, though, you must define the three outlines: meme type, font, and style.
There are different ways to create your original memes. They could be photographs, videos, GIFs, or screenshots. Experiment with each of the meme types, then monitor the type that engages your audience on a deeper level. This way, you'd know what type of meme to use in your marketing campaigns,
While delivering your message, the font you use plays a vital role. Generally, brands use Helvetica Neue and Montserrat as the standard font in their memes. But you could also use Comic Sans, Arial, and others, as befitting to the context.
Lastly, style. Your memes could have rounded corners, or be decorated with emojis, or weaved by embedded texts. Either way, these visuals are the elements alluring the viewers' interest.
Although businesses use memes with the sole purpose of connecting with their audience, there are times where you could indirectly flaunt about your product too.
Check out how Tooth and Honey rocked its audience through its original meme. And, here's how Rihanna's Fenty Beauty captivated the hearts of the viewers. These memes simply excite the audience and catalyzes their response.
Become A Meme-Jacking Leader –
Many brands simply devour meme-jacking and enrich their marketing game. Don't leave money on the table by forgoing this wonderful technique. Here's what is in store for you as you evolve as a meme-jacking leader.
Hmmm! The results are delicious!
1. Capture Ambassadors –
Digital marketing in itself overcomes the hurdles of country borders and co-ordinates. But imagine reaching the emotional space of your audience to create a bond that can't be severed.
This is the key to creating what marketing masterminds call the loyal ambassadors. They wouldn't be just your loyal consumers, but would also spread the good word about your brand with family and friends.
2. Capture Leads –
Memes have greater chances of being shared when your loyal consumers spread the word. On the flip side, as you run your marketing campaign, you'd also be able to crack your cool leads with your warm chocolate memes.
The catch, more leads are sure to follow, not just from your marketing efforts, but also from your ambassadors.
3. Capture Opportunities –
You can even use memes in your blogs. This way, those web visitors who come across your blog, would be able to relate to the connections you make, as you educate them on how your offerings would help them overcome their roadblocks.
Thus, you'd gain an opportunity to satiate your sales funnel's thirst.
Act II, Scene V –
All the world's your stage. How you entertain your audience would define your brand's success story. It's time you allowed your business to break free from myths, to make the most of memes in the digital age.
Also Read – What Are 5 Important Steps To Start A Successful Business?