How to do YouTube Advertising in 2019? – A Step by Step Guide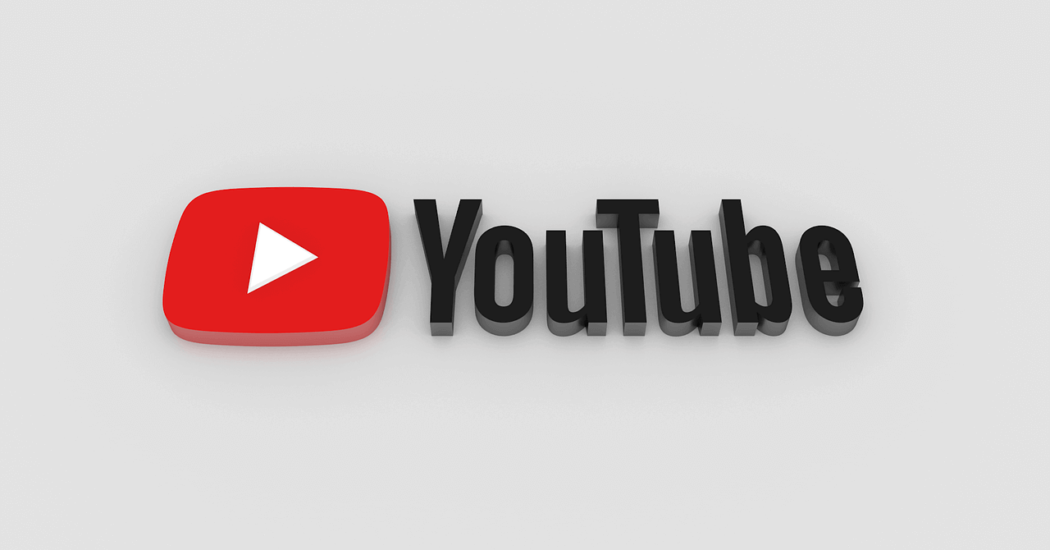 Find out How to do YouTube Advertising in 2019?
As you all know Video content is very much effective these days. Only YouTube videos are watched by over a million people around the world.
YouTube has got a lot of Traffic. This is almost a third of all Internet users. Every day users spend billions of hours watching YouTube videos. So this makes a perfect platform for video marketing so that brands can get maximum exposure for their products or services they offer.
Today this social network platform YouTube is more popular than most TV channels networks out there. Moreover, according to some reports, The State of Video Marketing in 2018, 82% of users buy a product or service after watching a branded video. 78% of companies report that videos have helped them increase their sales.
So we can say, it is no wonder that video marketing is so rapidly gaining momentum and popularity. These days you can simply buy views on your youtube videos from companies like BuzzVoice.
In this article we will talk about how to run various types of YouTube advertising in 2019. Which kind of ad format will help you attract customers and moreover give your brand more exposure.
Read More: What is Digital Marketing? How it can help grow your business?
What are the types of YouTube Ads?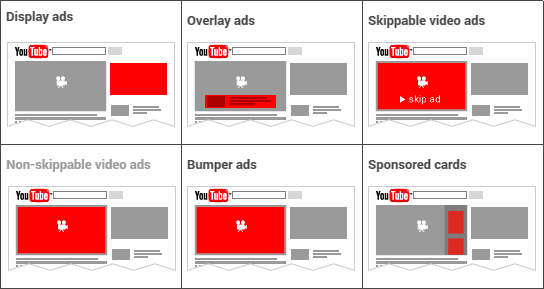 There are several types of YouTube Ads/ Advertising, we can see them listed as below:
1) TRUEVIEW ADVERTISING
The Trueview Advertising format allows viewers to choose which ads to watch and when. According to Google, 8 out of 10 users prefer it.
In the case of TrueView Advertising, the advertiser pays only when viewers watch a video for more than 30 seconds, watch a short video to the end or to any interaction with it. So you can save time and attract only interested audiences.
TrueView ads that can be skipped should be from 12 seconds to 6 minutes in length.
There are two main sub types of this TrueView ads:
In-Stream Ads and Video Discovery Ads. Let's check them all in detail.
IN-STREAM ADS
These videos are played before the launch of the selected user video. This is what Unbounce looks like :
This type of ad differs with a small timer and a link to the advertiser's website in the lower left corner of the screen. Also with such videos on the right above the recommended videos a banner is shown.
Marketers can complement TrueView with various calls to action and text overlays.
TRUEVIEW DISCOVERY ADS
Advertising of Trueview discovery ads format is displayed in the search results and in the right block above similar videos. It includes previews and up to three lines of text.
When you click on advertisement, the viewer will be redirected to the viewing page or the specified channel page.
Why Use TrueView Ads?
This is a great option to attract the interested audience. In this case, your risks are very low, and also you only pay after you get real views from audience.
This is simply amazing, because 78% of users reflexively advertise.
Another plus of this format is that you are not limited in time, which means you can experiment with different types of content: product demos, reviews, tutorials etc.
For example, Grammarly used in TrueView advertising reviews and demo products. As a result, they managed with its help to attract 55% of social traffic.
And that is not all. According to Google, when using TrueView Ads, views of existing content increase by 500%.
Now let's look at other formats.
VIDEO ADVERTISEMENTS WITHOUT THE POSSIBILITY OF SKIPPING
Such videos are very much similar to TrueView, but users cannot miss them. Is logical. It is quite expected that this format is disliked.
Last year, YouTube abandoned the use of video for 30 seconds. Today advertisers are limited to 15-20 seconds.
Such videos are played not only before the main video, but also interrupt its playback for a duration of more than 10 minutes. Advertisers pay for this format on the principle of CPM for every thousand views.
That is why it is very important to correctly target, so as not to waste the budget in vain. Ads without the possibility of skipping is better to choose to expand the coverage and increase brand awareness.
SPLASH ADS
Splash Ads is another type of YouTube ads without the possibility of skipping, but in this case, the video can not last longer than 6 seconds. Here, advertisers also pay per thousand impressions.
Many brands use screensavers as part of larger advertising campaigns.
Here is an example from HostGator YouTube Ad: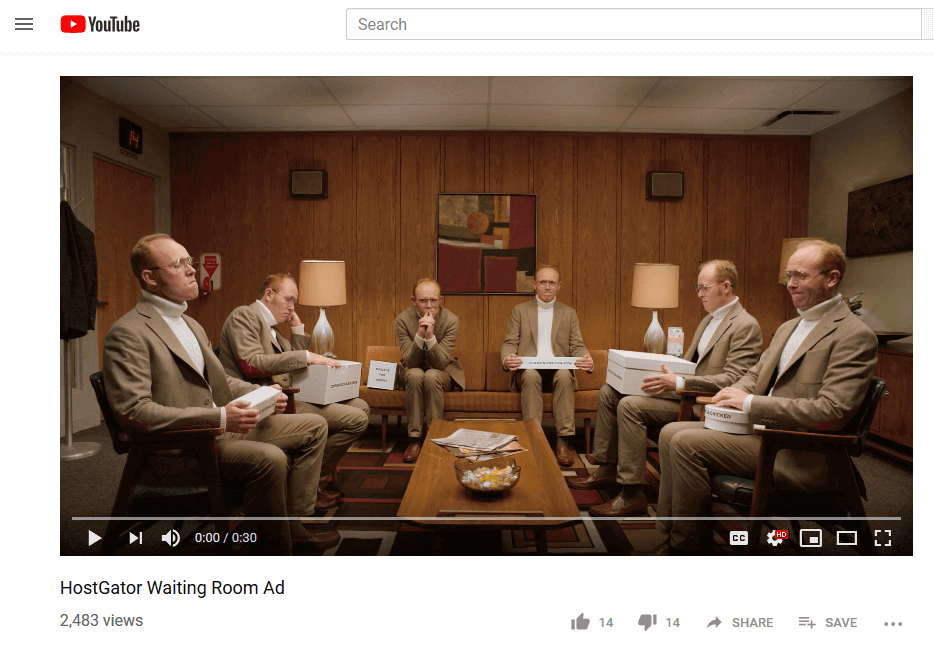 This video is of 30 seconds, of course, this format is not suitable for stories, reviews or product reviews.
PRODUCT ADS
Sponsorship tips appear during video playback and may contain a call to action. This is the most unobtrusive type of advertising. In the upper right corner a small 'i' icon is displayed, when the user clicks on it, a prompt appears.
DISPLAY ADS OR BANNER ADS
This is another simple ad format. Banners are displayed on the right side of the screen above recommended videos. Here is an example from QuickBooks:
So, we looked at all the YouTube ad formats. Now let's see how to prepare the first YouTube Ad campaign.
In this article you will find four tools to do (seo) search engine optimization for videos on Youtube.
How to run the first ad campaign on YouTube?
First you need to create a video or image and advertising text. Inspiration can be drawn from the monthly ranking of the best commercials .
STEP 1: UPLOAD A VIDEO AD ON YOUTUBE
Before you start setting up an advertising campaign, it's better to upload the prepared video to your channel.
STEP 2: CREATE A NEW CAMPAIGN IN GOOGLE ADWORDS
Now you are ready to customize your campaign. First, go to your Google AdWords account (this guide will help you register it).
Select the All Campaigns tab from the menu on the left. Click + and create a new campaign.
Now select the type of Youtube Campaign.
Google provides 5 types of Ad Campaigns as below:
Search network

CCM

Trading

Video

Universal
Click Videos and select a campaign target based on expected results.
For example, if you want to attract more visitors to the site, you should choose the target Traffic website .
Set the options that suit you and click Continue .
You can add and remove targets at any time.
STEP 3: SET UP YOUR CAMPAIGN
Now let's move on to customization.
CHOOSE A NAME
It will be visible only to you, so make it informative.
SET A BUDGET
To begin, specify the average amount you are willing to spend per day.
Start small. So you test your ads and ensure maximum ROI.
Here you can also choose the display method: standard or accelerated. In the first case, the budget will be evenly spent throughout the day. When choosing the accelerated scenario, your ad will appear on every available case, so the allocated amount will finish faster.
Start better with an accelerated version, so you can quickly collect data and optimize your campaign.
SELECT START AND END DATE
Just enter the start date and end date for the campaign.
SELECT NETWORKS
Here you can specify where your video will be displayed. Three options are available:
YouTube search results: ads will be displayed next to search results, available only for TrueView discovery format.
YouTube Video: Ads will appear on videos, channel pages and the YouTube home page.
Partner video resources in the CCM: advertising will appear on other Google sites.
CUSTOMIZE LANGUAGES ​​AND LOCATIONS
Do not forget to indicate the countries in which the ads will be displayed.
CHOOSE A BETTING STRATEGY
Now you have to choose how you will pay for the campaign. Google AdWords provides 4 options:
Maximum Cost Per View (CPV): The cost will depend on the number of views and interactions with the video.
Maximum CPM: You will pay for every 1000 views.
Cost per thousand impressions in the visible area of ​​the screen: you will only pay when your ad is actually viewed. For example, if a user enters the page and immediately closes it, the view will not be counted.
Target CPA: Cost depends on the actions of the viewer, for example, clicks.
RESOURCE TYPE
In this section, you can customize the display of advertising only next to content that is suitable for your brand. For example, a toy-selling store will not want its ad to appear next to violent or sexual content.
Carefully read the description of each item to choose the most suitable option.
EXCLUDE CONTENT
In this section, you can specify unwanted topics for displaying advertising, such as Death and critical situations or Delicate social problems.
Do not skip this step, otherwise you risk seriously damaging your brand.
STEP 4: SELECT YOUR AUDIENCE REACH
Make sure you give an informative ad group name. In the future, you can use it for similar audiences.
SET DEMOGRAPHIC OPTIONS
This is the first stage of setting the target audience.
In AdWords, you can specify to whom you want to show your ads: gender, age, parental status, etc.
SELECT AUDIENCE
In this section, anyone can find the perfect audience for themselves.
STEP 5: CHOOSE YOUR PLACEMENTS
Then you can select specific content for which you want to display your ads.
ENTER KEYWORDS
Enter key phrases, one word at a time, or a phrase. You can use the Get keyword variations option .
CHOOSE A TOPIC
Simply select the appropriate topic that is relevant to your ad.
PICK PLACEMENTS
Here you can specify specific channels or videos on which you want to be posted. This field can be left blank.
STEP 6: ADD MARKETING VIDEO
Use search to find your video. Just select it from the options. You can also enter a link or download a video on the right.
STEP 7: CHOOSE AN AD FORMAT
Now you have to choose the format of advertising and see how it will look on different devices.
Be sure to include the link options, call to action and title.
Also, when selecting the in-stream format, you can upload an image, or allow it to be selected automatically.
To continue, simply click Save and Continue . You can now go to the campaign.
Now you have just finished launching your first YouTube ad!
This completes tips about How to do Youtube Advertising in 2019? – A Step by Step Guide.
Let me know your comments about the article below.
Thanks.
Read More: What is SEO? How to do SEO in 2019? Complete SEO Guide 2019