10 Everyday Things With a Creative Twist That Will Amaze You
10 Everyday Things With a Creative Twist That Will Amaze You
In our daily routine, we use many things to help us out, be it in terms of work, household chores or any other tasks we indulge ourselves in. We are basically surrounded with simple things with a creative twist that facilitates us in many different ways and with a few alterations the same things can turn out to be way more useful than their intended purpose. 
Here are 10 Everyday Things With a Creative Twist That Will Amaze You –
1. Mug with cookie holder –
The first on our list is a multi-purpose mug that can hold Oreos alongside your drink, so you can savor your food more conveniently and enjoy every bit of it without having to carry a plate for keeping your cookies. 
Isn't it truly innovative and well who doesn't love dunking their cookies in fresh milk before munching on them!
Also Read – 7 Critical Steps to Selling Your Amazon Business for Nice Profit
2. Public bike stand with a built-in pump –
Second up we have this very handy bike stand that has a built-in pump so that anyone can easily check up on their bike's tires and fill them up in case of any mishaps and difficulties. It is easy to use and literally anyone can use it without the need of a car mechanic.  This is a pretty useful tool for bikers! 
 3. Rubik's cube for blind/color blind people –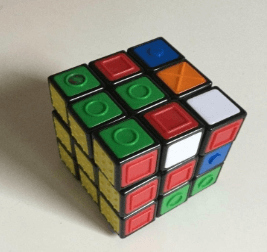 Rubik's cube is one thing we all have struggled with, but we would still say that everyone should give it a shot. The good news is that now there is a special version for blind and color blind people. It designed with different embossed shapes on top of the colors that can be felt, allowing visually impaired people to differentiate between colors. 
Well, that is a pretty awesome fix so that blind people can also enjoy this game!
4. Spoon with a built-in toothpick –
This is yet another tool that will amaze you. It is a spoon that comes with a built-in toothpick hence super convenient for people who have the habit of using a toothpick. No longer do you need to wait for a waiter to bring toothpicks after your meal or worry about replacing the stock for your guests? All you need to do is detach the toothpick from the spoon right after you are done with your meal. We think this is worth the investment!
5. Bowl with separate sections for soup and crackers –
This is definitely a thing that we would love to invest in. This bowl basically has sections to hold a variety of food. The best example would be crackers and soup because who doesn't hate soggy crackers! 
This is one smart bowl that you can give to children if you want to opt to serve them food in portions such as savory items along with fruits or dessert. Also, some kids can be fussy when their food gets all mixed up, so this is the best way to prevent it. Definitely a great thing for moms!
6. Bathroom stalls with lights –
Bathrooms at Atlanta airport have stalls with lights installed in the ceilings that are green when there is no one inside, but they automatically turn red when the stall is occupied. It might similar to the parking lot because, but this is truly one amazing innovation for washrooms as it tells exactly how many stalls are available or in use and if you should rush to another bathroom if all the stalls are in use. 
7. Supermarket trolley with a map of the market –
Haven't we all got lost in supermarkets trying to find the things we need and then it just gets difficult to find the exit? So here we have a specially designed supermarket trolley that is used in Sweden. The best part about this trolley is that it has the map of the supermarket drawn adjacent to its handles. It is definitely a very useful thing for newbies and for old aged people who tend to have difficulty in finding their way around. Plus, who wouldn't want to go on a quick supermarket run with a trolley that can save time?
8. Wheelchair with an attached baby stroller –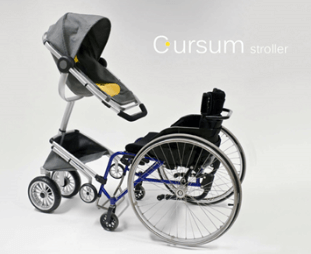 Next up, we have a special kind of wheelchair that has a baby stroller attached to it. Everyone needs a stroller at some point in time in their lives, even the people in a wheelchair so why deprive them of not being able to push around their children themselves. This is indeed a great idea to combine both the things together and also it can help improve bonding time with children without any need for help. 
This is perfect for the disabled, but it can also be used by pregnant women in the case that they get tired of walking around or pushing the stroller so they can use the well-designed product.
9. Foldable beds –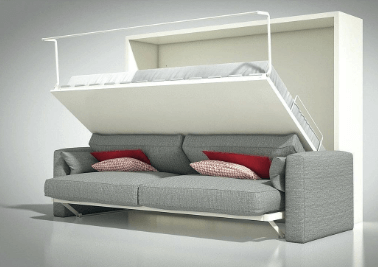 This is another innovative thing we came across. It is a bed that can be folded into a sofa. It saves space and enables you to change the setup of your room. With this, you can create a lounge cum bedroom kind of effect at your place. You can enjoy watching Netflix or football with your friends on the couch, but if you get tired you can easily switch to the comfort of your bed without switching rooms. 
10. Electrical switch with a light –
Last but not the least, we have an electrical terminal with a light underneath, which makes it easier to spot a switch in the dark and simultaneously it can also help you in finding your way around in the dark. It can be very useful for children who are scared to sleep in darkness so it can be used without a lot of electricity consumption.  
Live Smart! 
These are creative alterations to very basic things. They may seem quite basic, but they can prove to be quite useful and handy in terms of need. Don't you feel like that with the adoption of these innovative devices you can turn your home into a smart home? However, before you purchase all these devices make sure you have a smart internet connection. In case you have a bad one, look no further because Spectrum Fort Worth Texas gives you a fast internet connection with very reasonable packages. Check them out today! 
Author Bio –

Baldwin Jackson is a vivacious writer and digital marketing consultant, involved in taking businesses a notch higher. Since I am a part of the digital marketing industry for over 6 years, I know exactly how to use creativity and analytical abilities to assist a variety of online businesses.
Also, I can proudly say that I have helped different brands improve their online visibility and create great lucrative opportunities for them. Well, in my spare time when I'm not working which is not often, you will find me engrossed in playing online games– thanks to my stable and steady Internet for giving me a lag-free gaming experience! 
Also Read – Tips for Delivering Bad News in a Business Setting