How to Choose the Best 4K Video Editor for PC
Indulged in the stunning image experience of 4K resolution, although the 4K market is not ripe yet, identify with 4K becomes the mainstream in the future is widely acknowledged. Although the diversity of resources and products brings needed of editing 4K videos, bulky size and highly-compressed formats of 4K video still are the obstacles for editing.
If you want to accomplish 4K video editing smoothly with your PC, the most important thing is to choose the best one from various 4K video editors. Here is a checklist of elements for how to choose the best 4K video editor for PC.
1. System Requirements:
To start editing 4K video, system spec of PC is one inevitable component. The large size of 4K video impacts the central processing unit (CPU), random access memory (RAM) and storage of the computer. Usually, Intel Core i3 or i5 of CPU and 8GB of RAM are the minimum requirements, and one SSD of storage is recommended a requirement for 4K video editing.
However, sometimes even your computer exceeds such specs still meet problems like cannot import 4K video, edit choppy, lagging, and crash. Compared spending a large amount of money to buy a high spec computer, a 4K video editor with lower system requirements would be the more economical choice.
2. Ease of Use:
Do you want to spend several months studying how to use the software before editing or just want a few minutes to finish a wonderful 4K video?  It depends on a person by person.
Professional 4K video editors are powerful in features and configurations, but also have complex operation interfaces and large installation sizes. Lightweight 4K editors are suitable for a beginner which has overwhelming precedence in the clear operation interface and compact installation size will not cause an extra burden while editing 4K video.
Also Read: Software Testing for Quick and Quality Releases
3. Features:
If you use a one-stop 4K video editor with comprehensive features, you can save storage on PC for don't need to install more software, and you don't need to waste time in importing and exporting video repeatedly for switching different editors. I know you also want more effects allow you to create an excellent video, and with multiple output formats, you can share and watch it on different social media platforms and equipment.
4. Price:
Free 4K video editors, of course, are preferable, but many of them cannot bring a seamless experience for your overall workflow. We cannot say every priced 4K video editor is perfect in all processes, but usually, they will have functional focuses and perform great in that.
For saving money, the best solution would be: download any free editors as you want, try to use it to meet your editing needs, and according to your editing needs and feature preference to decide whether it is necessary to buy software and which one to buy.
Based on the elements listed upside, let's move to the top-rated 4K video editors.
1. VideoProc: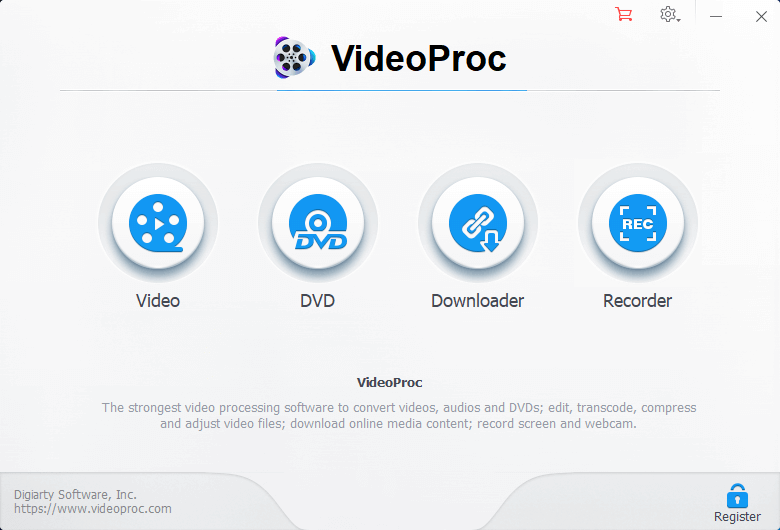 VideoProc is a one-stop 4K video editor especially for 4K HEVC/H264 and higher-quality videos, and its full set features can help your overall video processing includes compulsory and arbitrary executions of video editing, transcoding (converting), resizing and adjusting (fine-tuning).
With its particular technology of hardware acceleration, VideoProc gets a significant speed boost up to 47x real-time faster, can handle large size video easily. Also, it supports converting any popular video formats without quality compromise. VideoProc is a utility for beginner because you don't need a fussy study to use the professional functions, clear interface and simple operation can help you edit 4K video just a few clicks.
However, it is a linear-editing tool cannot edit every frame delicately.
VideoProc has both free and paid version, you can try all the features before ordering.
2. Adobe Premiere Pro: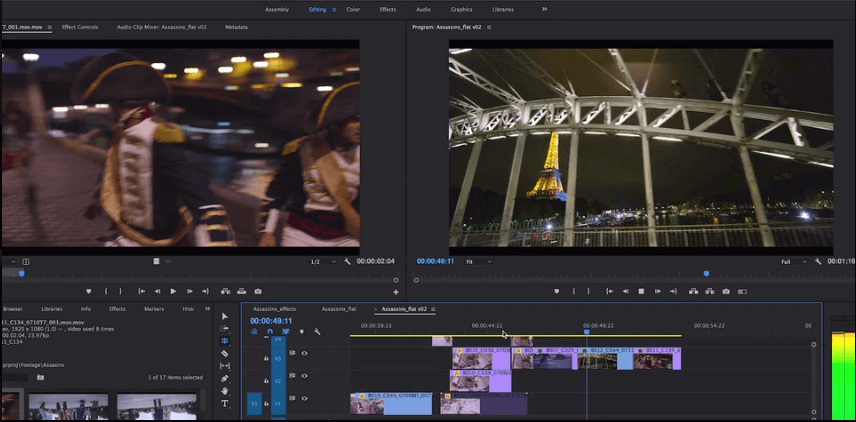 Adobe Premiere Pro is famous for professional features and integrated, efficient workflows that you can cut video, adjust color, improve audio, add subtitles, etc., even to make magnificent trailers like Hollywood.
Adobe Premiere Pro can edit footage in any modern format, from 8K to virtual reality, but customers also hesitate for its complexity and high system requirements. It is a great challenge for a PC that Adobe Premiere Pro requires at least 8GB of RAM and 8GB of hard disk space, let along other software like After Effects, Adobe Audition and Adobe Stock sometimes are needed.
3. iMovie: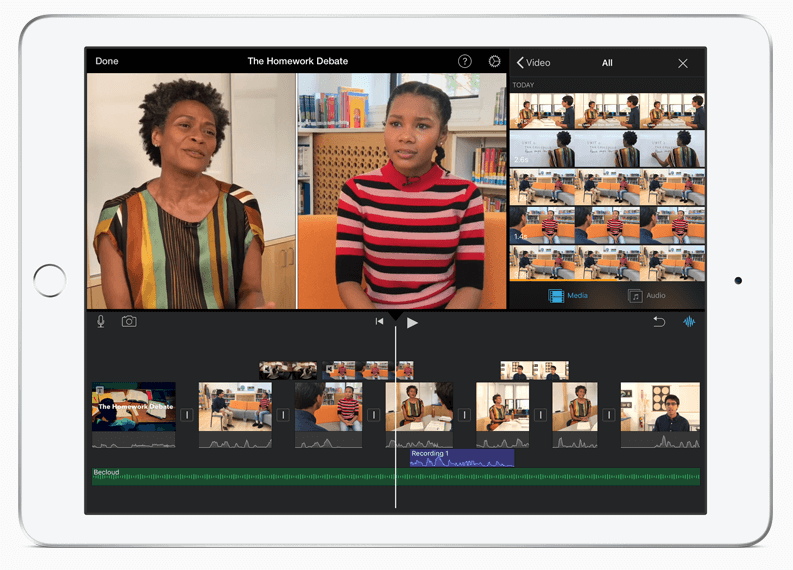 iMovie is a total free 4K video editor for iOS and macOS system quick and easy to use. You can cut clips, add titles, music, effects across all of your Apple equipment like iPhone, iPad, and Mac.
Although iMovie can work with multiple 4K video clips, it is not a good choice for editing large size video. Users complain when processing advanced editing, the app crashes, and equipment freezes. Also, iMovie provides very limited output choices and no option to compress 4K output videos, output video can be large.
There are many other choices when referring to best 4K video editor, but it is hard to say powerful features or easy to use which one is the precedence. The elements are just part of the equation, more to the point, the best 4K video editor must give you a good experience to meet your various demands when editing.
Also Read: How to Choose Best DVD Ripper for Mac?