7 Actionable Tips To Improve Your Law Firm Website Design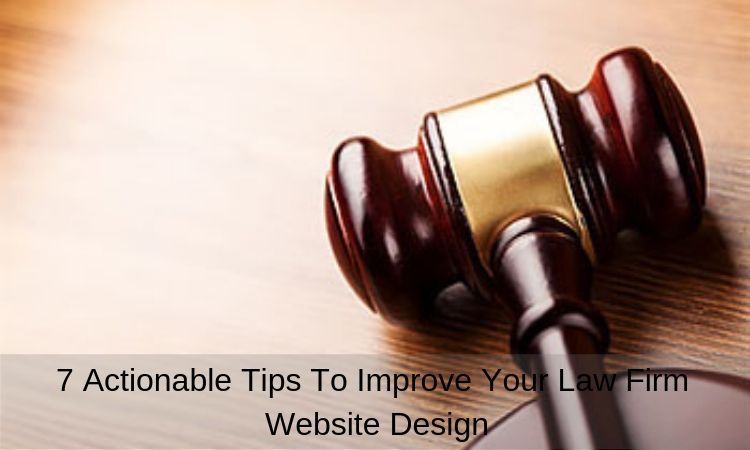 Are you unhappy with your present law firm website design? Instead of replacing it with another layout you can improve it by making some modifications. The emergence of content management systems like WordPress has completely revolutionized website building. Even people with low levels of technical knowledge can now make an interface by simply choosing from pre-built elements. However, this convenience can also cause problems as technically deficient people are unaware of the good practices that help in the creation of high-performance interfaces. Lawyer website development is no different and requires the presence of some essential features in order to perform optimally. In this article, we are discussing some tips which can improve the design of your attorney firm's interface.
Let us see what are the 7 Actionable tips to improve your law firm website design:
1. Attach a blog section:
All legal interfaces must have a blog section which must be updated frequently. This is the best way to regularly update your website with fresh content. It will also help in aligning your content with the requirements of your target audience. People who visit law firm interfaces are looking for information and assistance in specific issues. Well composed articles in easy to understand language will not only help such users, but it will also create a good image of the agency. The blog page will project you as an authoritative entity in your practice area and build trust among your audiences.
2. Optimize The Website For Mobile Devices:
Internet traffic now a days is being primarily driven by mobile devices. People are searching for information, communicating with friends, and even conducting financial transactions with the help of these gadgets. Is your company's website designed to address such users? Find out by using Google's mobile-friendly test to see the performance of your interface on smart devices. Make sure you are using a responsive layout so that the website adapts itself to changing screen sizes. Another aspect that needs attention is page loading speed. Mobile users abandon a slow loading interface much earlier than desktop-using people. Taking all these steps will optimize your website for mobile devices and help improve its online visibility.
Must Read: 10 Tips for a Future Proof Website in 2019
3. Create Separate Landing Pages For Different Practice Areas:
Does your website have separate pages for all the different practice areas that your firm operates in? If your answer is no, then hire a developer to create separate landing pages for all departments now. Let's say your agency offers services in corporate, intellectual property, and employment law but there are no separate sections on the interface for the areas. Now, users searching for a specific department like employment will reach your website but will not find a dedicated page with relevant content. It will be an unsatisfactory experience and they will move away to another option. Even if you specialize in a single domain like divorce, you can use this strategy. You can have dedicated sections for child custody, spousal support, mediation, etc.
4. Use White Space For Emphasis:
Intelligent use of white space can help improve law firm website design significantly. For the uninitiated, the white space is the blank area left between various elements on a page so that they appear distinct from each other. It is also called negative space and it can help in emphasizing key elements or sections of the interface. Leaving ample empty area around a call to action button will naturally draw visitor's attention towards it. You can also use the strategy to highlight vital text on a page. Liberal use of the blank space also provides visual relief to visitors and improves the overall user experience.
5. Professionally-shot Attorney Profile Pictures:
Another visual strategy that can enhance the layout is the placement of high-quality attorney photographs on the profile pages. Visitors want to know as much as they can about a professional they intend to hire. Looking at a picture helps them get familiar with the lawyer and establishes a connection between them and the attorney. However, many firm owners try to cut costs by placing images without considering their quality. This projects them and the agency in a poor light. It will be pertinent to hire professional photographers to take high-resolution headshots of the counsels. This will be helpful in impressing the visitors.
6. Display Contact Information On All Pages:
Your main objective of investing in a website is to attract more clients to your firm. In order to reach this goal, your website needs to encourage visitors to get in touch with the agency. It is essential to display the contact information on all pages of the interface. This simple trick can have a massive impact on your conversion rate. You can place the information in the upper half where it can be seen constantly by users. Include your phone number, e-mail address, and a call to action which directs people to the contact form. Make sure that the phone number is clickable so that mobile users can get in touch easily.
7. Add Schema Markup To Your Pages:
Schema markup is a semantic code that helps search engines understand your web pages in a better manner. Schema.org is the group which works towards promoting the use of structured data and is supported by all the major search engines. You can add Legal Service schema to markup the content of your interface. This will help search engines in establishing the relevance of your pages easily and including them in related search results.
Conclusion:
All the tips to improve law firm website design explained in this article can be put into practice easily. Applying them will improve the overall user experience of your interface besides boosting its online presence.
Must Read: Five Content Marketing Trends You Need To Know In 2019