Improve Customer Service Using Queue Management Software
Customer satisfaction is a fundamental basis for building long-term healthy relationships with your clients. If you recall over traditional dating relationship, walk through the business sales funnel process is just like addressing your prospect to turn them into a potential customer. But building & maintaining a long-term healthy customer relationship functioning is a hard job. You need to continue offering value time and time again. You need to keep your customers happy, contented and satisfied. Maintaining good customer service is a crucial task that's why many businesses opt to seek the help of reputable contact centers in the Philippines that consist of well-trained agents.
Once you've determined to make customers satisfied and establish a long term healthy relationship with them, you will automatically know where you're going wrong.
But how will you make sure you're offering value and placing your business/services up for fortunate customer relationships? The best way is to eliminate the reason behind their dissatisfaction.
Long waiting queues, un-optimized operations solutions, poor staff dealing, messy waiting area and more are some of the factors that lead customers to experience poor customer satisfaction. If you are also running a business and want to grow it, then you should make it your top-notch priority to serve your customers well.
In this post, we'll describe to you the best technology cum queue management system that will help you manage customers and improve service levels. Now, let's see why it is considered the best system to improve customer service.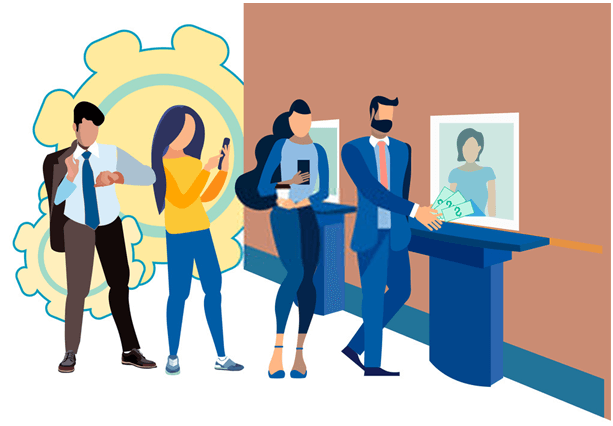 Let us check few ways on How Queue Management software can improve customer service:
1. It convinces customers to feel that you value their time –
No doubt, customers are fast to storm accusations and make complaints, mainly when it comes to poor customer service and long waiting times. They talk about the abundance of things they could be facing or how their precious time is being wasted just because of your poor services.
Also, in this digital age, it looks strange that customers line up and aren't addressed properly. If staff members have to wait for 10 minutes, see unimaginative reactions on their faces, undoubtedly they will feel that their precious time is being wasted. This is exactly what your customers feel while standing in the queue.
"But with Queue management system customers no longer have to stand in the long waiting lines".
Using a smart queue management system, you can offer your valuable customers free time when they're waiting to serve their turn. Of course, there are smartphones, journal magazines, and sometimes, a fast friend in the line to chat with. When a customer gets bored of physically standing in the waiting queue, then they will like to see around.
It will give you an extensive range of opportunities to enhance their customer experience in waiting lines.
You can also capture customer's interests and sell during the wait.
Also Read: Top 10 Important Python Programming Tips for Beginners
2. It reduces queuing anxiety by making the wait time known –
It's quite natural that we all have become a victim to queuing anxiety once or twice as a customer, when you have no alternative of determining how long it will take to serve your turn. Have you?
"It's one of the irritating and worst experiences for customers and can dissuade them from even joining a queue".
Digital queuing solutions of a queue management system can be fully customized to organize information/messages about waiting times.
3. It automatically assigns the ticket number to the customer –
What about assigning tickets? Will you assign tickets manually to each customer who visits you?
Many businesses handle in similar ways. But the queue management system handles it differently.
By having quick access to general customer information with quick links on your admin panel, you'll be able to recognize that the customers have already generated their tickets & counter number.
"Using digital sign-in, that you placed at the entry of your organization, customers will generate their ticket, counter number, department on their own. You needn't assign them tickets individually."
You can only see the details of the customer's information with his ticket number, timing, department, and service to be taken on your panel. It helps customers foster their queuing experience, as they don't get stuck in anyone's queue and eventually helps you smoothen your "customers handling process".
4. It helps you make effective decisions and planning –
More than a queue management solution to improve customer satisfaction, this system is also specifically developed to enable business owners to make an analytics-driven service improvement.
"Not only it helps you offer better control of customer flow management that facilitates streamlined queues and lessened waiting time, but it also creates thorough reporting to allow staff and management to make more efficient and effective decisions"
It allows efficient customer flow process, featuring:
● Non-linear queue arrangement that helps the customer to sit in the waiting area.
● Easy monitoring of front-office status from the back-office.
● Comprehensive reporting for easy analysis of areas of improvements.
● Flexible customer flow control.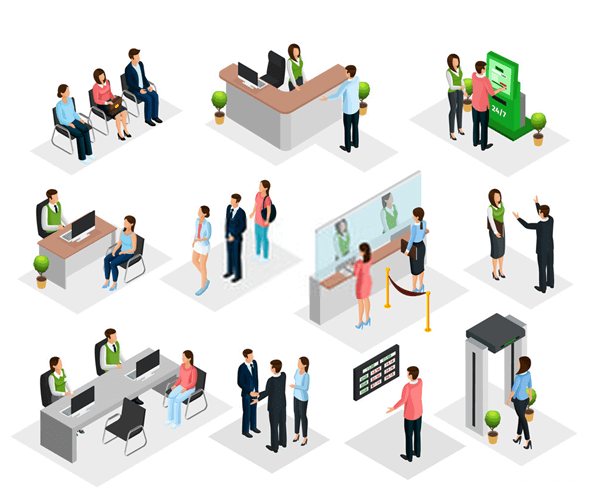 5. It helps you reduce your workload –
The queue management system is specially designed with the objective of making the user's business owner's life easy.
By helping users business owners track all of their business services in one place, it helps them manage and optimize services with immense ease. It will reduce the workload which they had to bear earlier.
"Whether it's about acknowledging the status of staff, tracking of performance analytics, a number of customers visited/served/ happy/disappointed or reason behind long queues, being an authorized person, you can manage all at your fingertips."
This way, you can know what's going on in your business and where you need to make improvements for attracting more customers and generating better revenues.
6. It helps you Keep Your Customers Informed & Entertained –
Keep your customers informed and entertained while waiting for their turn to be served is one of the crucial aspects that can help you improve customer service.
"Queue Management Solutions helps you incorporate a multimedia display panel used to show information regarding queue".
Knowing the queue number on the display will help your customers wait patiently for more time and analyzing how long they still have to sit & wait.
In addition, this management system can also be used as digital signage to show news, advertisements, events and important announcements for customers.
7. It helps you know customer's feedback –
Customers of this modern digital age want to be heard and they want their opinion to be a matter before getting any services. Right? This is a bigger victory because it will help you in digging out ways that would improve customer satisfaction levels.
Using a touchscreen-based system, provisioned with queue management and feedback systems, you can record feedback from customers using on-screen keyboards.
"It helps you know open-ended and closed-ended responses from the customers".
Once you are able to understand what your customers are thinking about your services, you will definitely offer them a great customer service experience.
The feedback system can also be integrated with the queue management system to conduct an analysis of service, employees, and systems in place.
8. It helps to shift customers from crowded branches to the fewer traffic ones –
Whenever clients attempt to get in queue remotely, they will genuinely want to visit your nearest branch. So, that they have the desired services at their own convenience.
"The queue management system here will detect the client's location, and suggest the most suitable, nearest branch which has the shortest waiting time".
This way, you can without any hassle transfer your customers from crowded offices to the less-crowded ones and also nearest to them. Also, the customers who are late for their scheduled appointment time can be granted delays, if requested.
9. It helps to organize workflow –
Gone are the days when if customers get in the wrong queue, your staff members have to move them to the desired counter for availing follow-up services. With an invention of the queue management system, this process has transformed completely.
"It helps you in providing your staff with the administrative rights to transfer a wrong queued customer to the right counter".
It helps your staff seamlessly transfer on the same ticket to another counter. Without ought to go and get a new ticket to lined up in the queue again, it saves your customers valuable time and offers them a happy & satisfied queuing experience.
Conclusion:
Customer service experience is one of the primary factors that initiate loyal customers to build a long-term healthy relationship with your business and trigger their shopping decisions. Customers demand to be served promptly if you value their precious time and want them to own your services for a long time.
Poor customer flow management might cause waiting queue congestion and longer waiting times, which could lead to inferior customer satisfaction, poor business image, and walk-offs. So, use the Queue management system for your business and tackle your customer flow effectively. You will no longer find a need to adopt another alternative if you use Qwaiting Queue management system.
Author Bio:
Content Writing is my hobby. Usually, I like to write about the latest technological solutions and services that businesses can opt to improve their business level. Being a researcher, I found an ultimate topic to give my viewpoints – the Smart Queue Management System. I found it one of the best customer flow management systems to improve the customer service experience. I hope you read, appreciate my above-written points about it and follow me for more.