The success and failure of a business depend on how they treat their customers. It doesn't matter how good your products and services are. If you cannot attract your customers, you will not be able to sustain your business for long. Technology makes a difference with different tools and solutions to entertain the customers in the best way possible.
With all those conversations, Ads, marketing, and customer support, the ultimate aim is to move the customers down the funnel. A conversion funnel presents a formal flow of how businesses should entertain their prospects to move them down and convert as final customers. The key is to offer customer satisfaction and better experience than your competitors.
From capturing leads to nurturing the prospects, conversion optimization is all about strategic approaches to get revenue for the business. In this article, I am going to enlist 5 such tools and solutions that help business across the height of the conversion funnel.
What are the different stages of conversion funnel?
The conversion funnel is categorized under four primary stages:
Stage #1- Awareness: Creating a positive image of the brand by helping prospects identify their pain points.
Stage #2- Interest: Encouraging prospects to find solutions to their pain points.
Stage #3- Decision: Prospects narrowing down the choices after going through all possible solutions.
Stage #4- Action: Choosing one perfect solution and making a purchase.
You can use a specialized tool in each stage to push your potential customers down the funnel. In fact, you can use most of these tools equally across all the stages to nurture targeted strategies and build trust.
5 tools to move leads down the conversion funnel:
Here are five such tools to move your prospects from being a lead to making a final purchase:
1.      Blog Content and Content Marketing –
A blog could be the ultimate way to deliver the right business communication to the prospects at the right time. With relevant content, you can create a laser-focused entry for your potential customers in the conversion funnel.
According to HubSpot, leads acquired through content marketing possess 20% more chance of a conversion. Having said that, 60% of marketers believe in content marketing and they create at least one piece of content every day.
A qualified content is not a tool for making sales but a way to educate customers and make them aware of their pain points. Targeting right on their pain points, you can not only educate the prospects of your brand but also bring them a step closer towards building a long lasting trust.
Read More: 10 Tips To Boost your E-commerce Marketing Sales in 2019
2.      Organic Social Media Marketing –
Social media is now a crucial tool for mainstream marketing and direct targeting through Ads and sponsored posts. However, long before Social Media Ads were introduced, platforms like Facebook and Twitter were organic ways to connect with the prospects.
There were no sponsored or promoted posts. If you desired to entertain your audience, you needed to do it organically like every other social media user. Build a profile, make interesting posts, address pain points, reply to their comments, etc. It was a pure relationship building without any premium catalyst.
Online adults of age 18-34 are most likely to follow a brand on social media platforms. Not just that, 71% of users who receive good experience with a brand's social media channel recommend it to others in their circle.
While many brands and business have been using paid social media Ads and Sponsored posts to reach users more easily, the concept of organic relationship is still more important. You still have to build a community of fans and followers of your brand. While 90% of social media users use social media to communicate with brands, you still need to encourage all of them to ask their questions on your social profiles.
While paid social Ads will make a dent on your pocket, only the organic way of social media marketing will prove useful in the long run.
3.      Live Chat –
When you have already built a relationship with the prospects by offering useful information through the content and social marketing, it's time you make them realize they are interested in your business. You now have to help them narrow down their choices and make a decision.
What could be a better way to do this then interacting with your interested prospects in the real-time? Offering live chat can prove to be a perfect catalyst for moving your prospects down the conversion funnel. With real-time responses to their queries, you get a perfect way to clarify their doubts, talk about your offered solutions, give guided shopping experience, and narrow down their choices.
In a survey for lead generation methods, 42% of customers trusted live chat as the safest channel to give out their contact and personal information. This is way too higher than any other lead generating tool in the market. Not just that, 77% also admitted that they will not make a purchase is site doesn't offer live chat support.
In short, offering live chat will not only push the prospects down in the conversion funnel but can also help you increase the average cart value by over 10%. That's right, you could be helping your customers and boosting the sales figures at the same time.
4.      Push Notifications –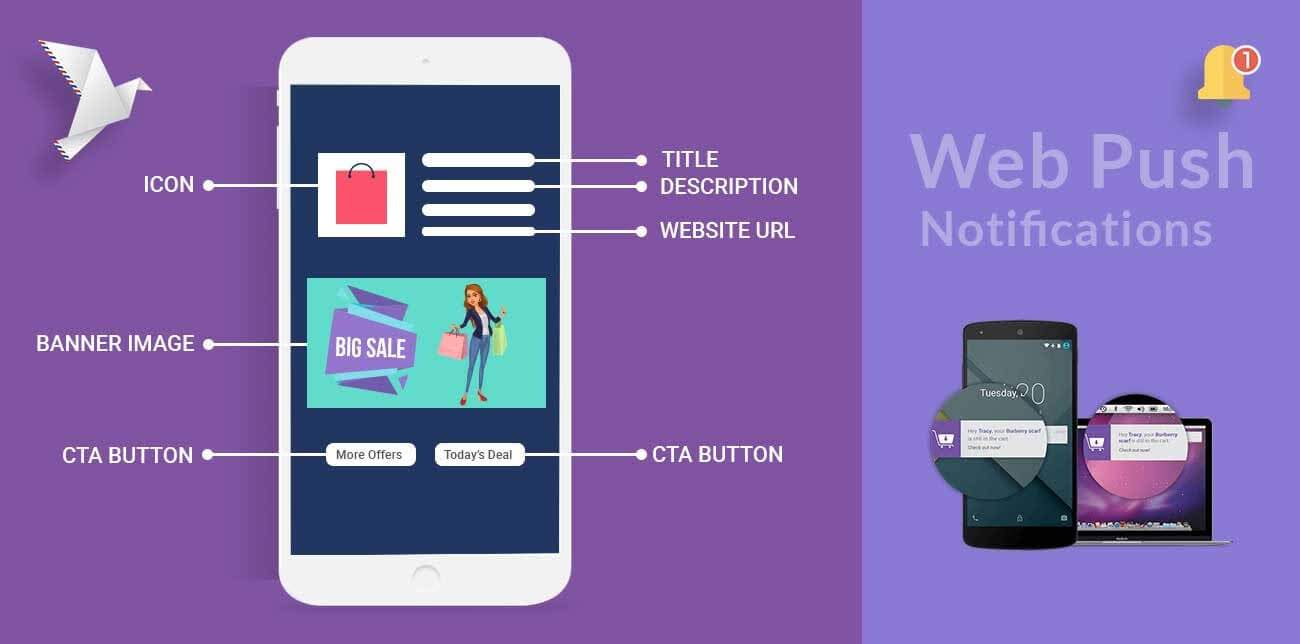 Push Notification is one such tool that helps your business in all the four stages of the conversion funnel. Right from notifying your subscribers about a new content posted on your blog, communicating new offers, and showing product demos, to reminding them of an abandoned cart on your site, push notifications are the best way to communicate with the prospects in all the stages.
The fact that you do not need to ask their personal information to send push notifications makes it easier and trustworthy for the users. In fact, 70% of users admit that push notifications serve them useful information. You can guess the power by the fact that push alerts receive over 90% delivery rate, 50% better open rate than email, 93% of retention rate with right targeting.
You might ask that you don't have a mobile app for your business to use push notifications.
Trust me, you don't need one. You can simply use a self-hosted push notifications tool and send notifications right from your website. Such tools use Google's Firebase Cloud messaging to send free web push notifications to unlimited subscribers.
Unlike SaaS-based app push notification services, you don't need to invest in the mobile app to leverage the power of push notifications. Using web push notifications, you can reach out to your subscribers on their computers, tablets, and even on mobile phones with web browsers. Rest all depends on your strategic segmentation and right targeting with the right information, push notification will never let you down.
5.      Email –
While push notifications receive better numbers in some areas as compared with emails, email marketing is still a thing. There are still a lot of things which email do better than push notifications. For example, you can't send an invoice or proposal with push notifications.
Be advised that customers who make a purchase after email communication spend 138% more than the customers who don't receive emails from the brands. Correspondingly, 73% of millennials use email as their preferred means of communication with the businesses.
Email nurturing is an essential stage of the conversion funnel and one must follow a similar approach as push notifications. From sending newsletters to blogs, communicating new offers, and products, emails do everything that push notifications do to move the prospects down in the funnel.
In fact, you can use emails right from the top of the funnel to the final conversion and further for generating repeat sales as well. You can start with welcome emails acknowledging them for joining the list. Further, you can communicate high-value information in the form of useful content.
Once you identify their needs, you can introduce your products and services and entertain their queries about the same. Later, you can utilize the drivers like offers, deals, flash sales, FOMO and others to encourage the conversion.
In short, all the tools mentioned here work best when targeted and personalized as per the scenario. Most of the time you just have to help them and forget about sales until you gain trust.
Author Bio:-
Marry Ann is a branding consultant for PushMaze, a service that lets you send trackable push notifications for users. She mainly passionate about building brands in all the aspect of online marketing.
Read More: What Are The Popular Digital Marketing Trends To Follow in 2019?