8 Best Virtual Classroom Software in Coronavirus Pandemic
8 Best Virtual Classroom Software in Coronavirus Pandemic –
As the pandemic COVID-19 knocked at our doors, nearly one billion learners were affected by 131 countrywide closures, as per the May 2020 data released by UNESCO.
Educational institutions and organizations started hunting for solutions to keep the flow of the academic sessions going in the face of long term closures. As a result, virtual classrooms became more common and replaced traditional classrooms.
With no limit to class timings, schedule, or location, easy access to study material through videos, online lectures, videos, presentations, and training modules- virtual classrooms emerged as a blessing to learners worldwide.
Also Read – 10 Ways Technology is Changing The Future Of Higher Education
Why Virtual Classroom Software?
With an excellent virtual classroom available, learning becomes more creative, communication becomes multi-channel, and collaboration becomes smooth via digital whiteboards, files sharing, breakout rooms, and more.
In this article, you will learn about the eight best virtual classroom software having features to boost learners' engagement and make learning fun.
A Quick Tip- After you go through our list, check out the various education questions and answers on popular Q & A platforms and forums for virtual learning and virtual classroom software. This type of content includes feedback and user advice in the form of questions and replies to explain how other customers are responding to various software.
So, let us check out what are the 8 best virtual classroom software in coronavirus pandemic:
1. ProProfs Virtual Classroom Software –
If you're looking for the most effective and simplest virtual classroom software in the market, this is one of them. ProProfs offers user-friendly virtual classroom software that helps you create online training courses and tests in more than 70 languages efficiently and fast.
If you are new at creating courses or looking for premade professional courses, you can always choose from hundreds of courses and customize them with themes, logos, and 100+ settings as per your requirements.
With Virtual Classroom Software, you can:
Include videos, documents, and presentations in the course.
Give learners 24/7 access to the courses from their choice of device.
Embed quizzes and surveys in courses to help users gauge their learning.
Send reminders, handouts, announcements, and other information to the learner.
Protect the courses by password or make them public.
Leverage advanced reports and statistics to track who took the course, learner performance, participation, engagement, and course/class completion.
Well, that's just about the tool itself. You can use the built-in collaborate tool to host Q&A, discussions, and chat conversations. Also, create round the clock self-help resources via FAQs, manuals, and help centers using their ProProfs Knowledge Base software to enhance the learning experience.
2. Yo!Coach –
Yo!Coach is an ideal software to launch an online learning and consultation marketplace. It is a completely customizable and feature-rich solution that helps learners and tutors to connect seamlessly for online learning. It is a white-label solution and GDPR compliant. Having the right set of features and functionality, Yo!Coach ensures a successful business model redefining the way of learning.
Key features of Yo!Coach include:
Pre-integrated with third-party APIs like Zoom, Lessonpace, and Cometchat. Yo!Coach provides interactive features like audio/video chat, whiteboard , screen sharing to simulate the real-life learning environment.

Location-based time scheduling to simplify scheduling sessions between tutors and learners residing at different time zones.

Yo!Coach also supports multi-lingual and multi-currency features.

To build a transparent platform, Yo!Coach has a review/rating feature that allows learners to give their feedback about online sessions with the tutor after its completion.
Apart from all these features, Yo!Coach comes with lifetime ownership with no recurring fees. Integrated with secure payment gateways like PayPal, Authorize.Net, and Stripe, Yo!Coach makes the process of online payments easy and secure. The 1-year of free technical support makes the software more reliable.
3. Itslearning –
Today's learners have so much on their plate at a given moment. Not only studies but extracurricular activities and skill development too. For this reason, learning should be smart and fun.
Itslearning is a popular Learning Management System (LMS) that brings all their learning material on their smartphone, which they can access from anywhere, at any time. In case they have a query, they can connect and communicate with their peers instantly.
The software offers a whole host of features to create study material, including lessons, tutorials, assessments, easy access to students, and personalized instructions by teachers.
itslearning is a boon for teachers and administrators who may have little or no digital literacy. The expert support and remote learning webinars help them plan and implement remote learning environments and create engaging, high-quality content to keep learners involved.
4. Brainier LMS –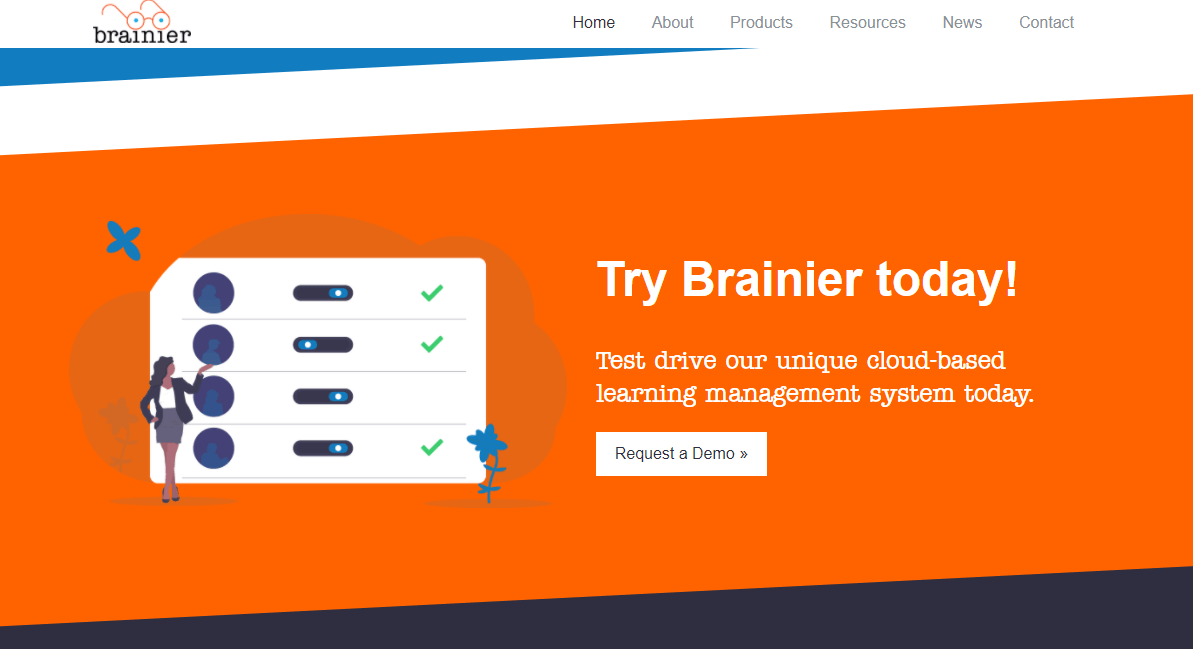 Brainier LMS is a fully globalized, cloud-based, mobile compatible, e-learning solution and learning management system that supports various languages (built-in) and all time zones. It is created using valuable insights and feedback from trainers and learners.
The themes offered by the LMS are fully customizable, with white labeling options and the ability to edit fonts, background images, colors, logos, custom pages, banners, etc.
Here are some of the most impressive features that this tool offers:
Comprehensive user dashboard to get an overview of user's activities, latest updates, and news.
Logical admin dashboard with great settings, including email templates, labels, HTML pages, etc.
Provision to add surveys, documents, links, evaluations, instructor-led classes.
Easy to read course overview, including the course's title, length, author, description, user ratings, description, tags, sharing options, etc.
Flexible user grouping option based on learner's location, department, job role, etc.
Personalized course creation based on various user groups.
Leaderboard to bring in healthy competition amongst users along with customizable pre-built ranks and badges.
Advanced reporting to monitor user activity and track their performance.
5. WizIQ –
Another candidate for the best virtual classroom and LMS software is WizIQ. Like all the other softwares, the tool allows users to create interactive online courses quickly.
Currently, this SaaS-based platform boasts of having more than 3 million users worldwide. The software has every functionality to enable you to deliver self-paced and live instructor-led online courses.
Students can access the teaching and training modules through their laptops and smartphones. Some of the valuable benefits of using WizIQ are:
Screen sharing
Multi-feature whiteboard
Polls and surveys
Breakout rooms
You're able to conduct face to face teaching sessions with students, efficiently replicating the feel of a physical classroom. The high definition video conferencing and high-quality audio allow learners to engage in learning and communicate effectively.
6. eTrainCenter –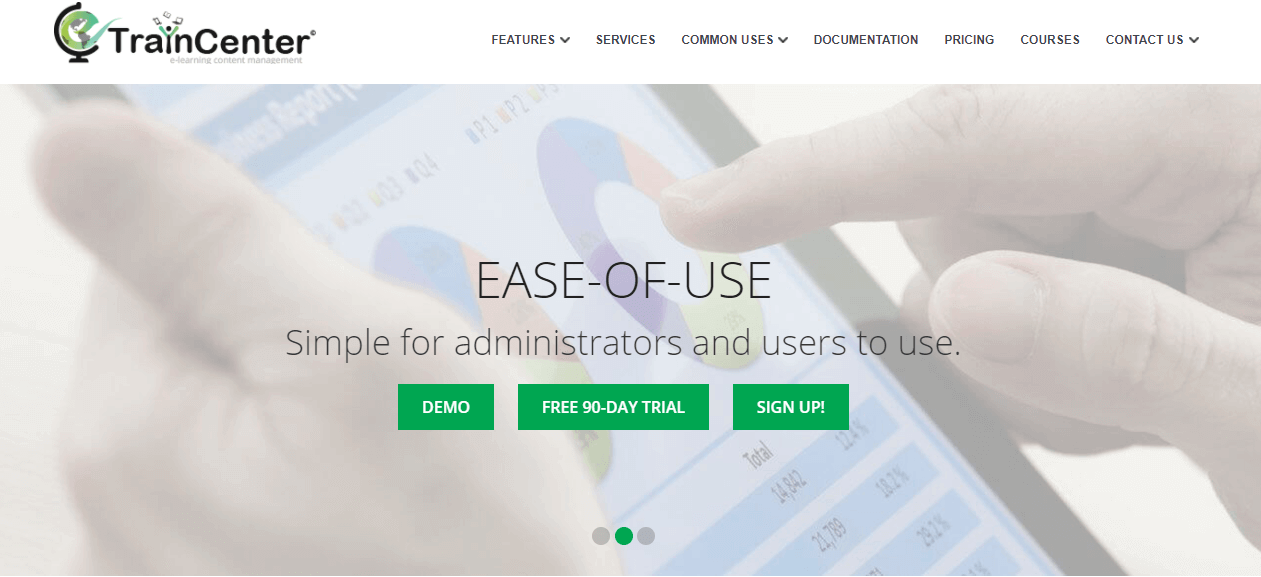 Another alternative to an integrated content and learning management system (LMS) platform is eTrainCenter. The tool is a popular choice of business owners trying to accelerate their employees' learning process.
The interface of the software is intuitive and user-friendly. There is no need for training. Anyone can create, upload, and buy ready-made courses at a given time. You can access this software on the cloud or install it on-premise. With this tool, you can easily:
Manage team member /student training
Monitor their performance
Grant remote control to students
Communicate via built-in instant messaging
Enable screen sharing in real-time
Record the classes for later use and analysis
Ensure compliance of your workforce
Add questions to live assessments
Create multiple versions of questions and exams
Create and deliver custom certificates upon completion of the course
One of the most notable features of this tool is the integrated whiteboard and annotation tools that offer all the benefits of a physical classroom in real-time. You can draw a variety of shapes, share files, PowerPoint slides, web pages, etc.
7. Tovuti –
Tovuti is another one of the best learning management software you can try out. The company has built the tool to make it easy to use, simple, and efficient for creating interactive and engaging online courses. You can trust this tool to make a mind-blowing contribution to your organization.
The best part of this tool is its gamification feature that allows you to host a competition on the leaderboard, entice the learners with games within the course and reward them with badges.
To make the course look like a part of your brand, you can white label it by using your brand's logo colors and URL.
Like some other software in the list, you can send email alerts, reminders, create popups to intimate the learners for the upcoming and existing courses, and news related to them.
8. TalentCards –
TalentCards is a decent solution for bite-sized e-learning, also known as microlearning. Companies find this way of learning useful to train workers for new product knowledge, security compliance, safety procedures, and aid their skills and knowledge.
The idea is to divide the learning material into short, highly focused content that the learner can quickly grasp.
You can attach audio, videos, and links. The resulting attractive multimedia-rich learning cards will make training easy, fast, fun, and easy-to-digest.
The tool offers an intuitive web interface to help you create the best topic-specific training that can be distributed amongst users via learning cards. To make the content more appealing, you can include images, texts, videos, audios.
9. SkyPrep –
The last one on our list is SkyPrep, a reliable and award-winning software to create a personalized and dynamic training environment. This company is a trusted choice of more than 500 companies from different industries across the globe.
Besides a user-friendly and intuitive user interface, the tool offers a host of features that can take your training initiatives to another level.
With this tool, delivering, tracking, and optimizing the team member training becomes a cakewalk.
You can upload files and prepare training courses by simply dragging and dropping the content. This tool's advantageous features are automated email and reminders to self-guide the users, assessment building capabilities, and powerful reporting to assess user performance in real-time.
ProTip to Choose the Virtual Classroom Software Suitable for You –
The COVID-19 pandemic has changed the world of education forever. Virtual classrooms are promising a new future for learning. Millions of learners are happily adapting to this new style.
While the options are many, the best virtual classroom software choice mainly depends on what you think you need to deliver an incredible learning experience. The first step is to brainstorm and create a list of features that you feel are absolutely required and others you think would be nice to have.
Compare the tools listed above, go through various education questions and platforms to narrow down the list. Take a demo before you finalize a virtual classroom software that works for you.
Author Bio:
Samuel Alfie, is a blogger at ProProfs Discuss, the #1 Q&A website with millions of wisdom seekers collaborating to ask questions and get the best answers. He loves reading and writing about a variety of topics including technology, business, e-commerce, science, philosophy, Pop culture, digital media, and more. With a knack for writing, enthusiasm for research and an editorial mindset, he loves creating content that resonates with the audience.
Also Read – Make Your Graduation Even More Special With A Video