Top 10 Software For Explainer Video Animation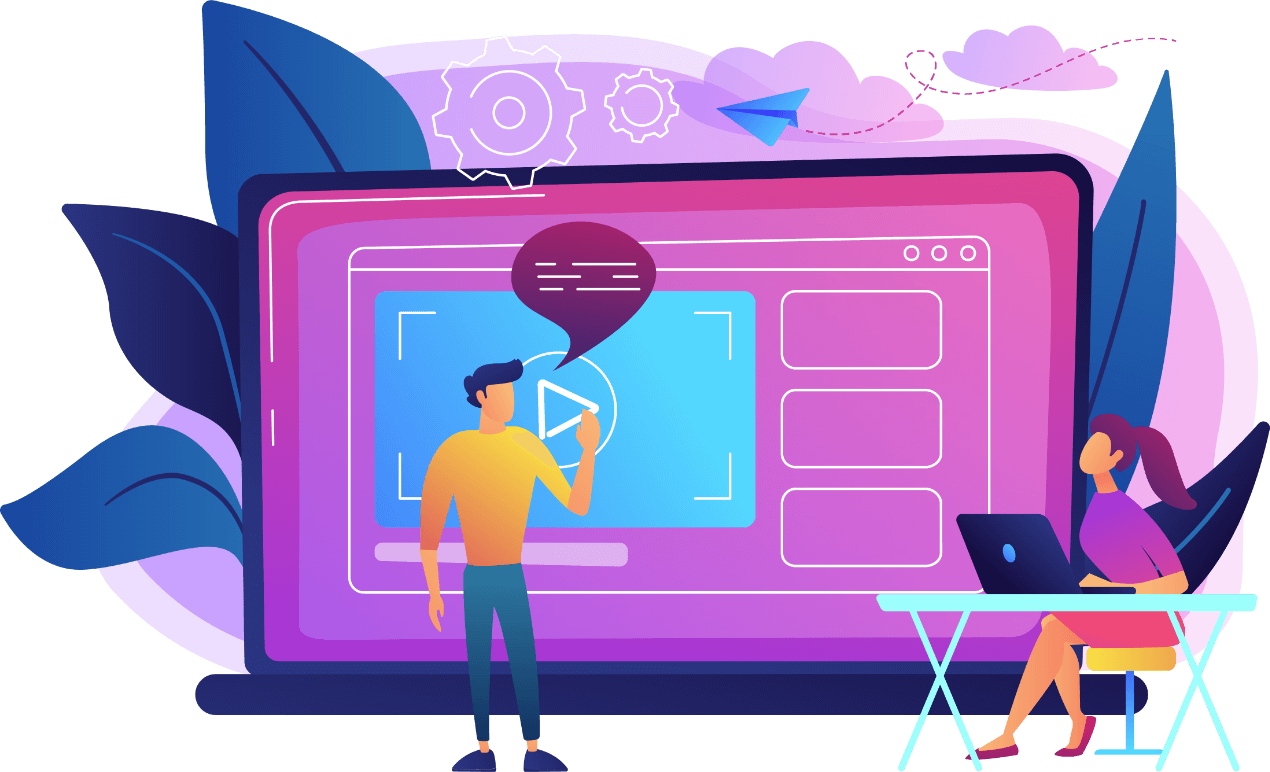 Top 10 Software For Explainer Video Animation –
We remember images and visuals more than words. When it comes to marketing, remembering this fundamental fact can help you go a long way. Demand for precise and crisp videos is increasing among consumers. Instead of using wordy articles to promote a product or service, companies are now using explainer videos.
However, there may be challenges you have to face regarding video production. You can always hire professional agencies for the job, but they are way too expensive for startups. Again, if they are not upto the industry standards, the videos may not serve their purpose.
So, what should you do? You create the explainer videos yourself, but with the help of professional software. Here is a list of top 10 software that you can use to create explainer video animation.
Also Read – Video Marketing in 2020 – Step by Step Guide
Source: oberlo
Check out the list of top 10 software for explainer video animation –
1. Wideo (Premium) –
For any newbie, who has no background knowledge of design, Wideo is a one-stop solution. It provides you with all the resources you need to create an engaging explainer video in no time. It comes with templates, so you can choose the one that fits and deliver the video in minutes. 
Other features:
Contains a wide variety of media assets

Users can add audio, images, buttons, or contact forms

Comes with speed control

Has advance animation tools

Comes with in-built Google image search
2. Explaindio –
Explaindio is one of the latest, value for money, AI-driven software for video animation. It is a perfect solution for startups and new businesses trying to utilize video marketing to reach out to their target audience. Similar to Wideo, you choose from the already integrated templates and other media assets of the software.
Other features:
Supports multiple animations at the same time

Contains plenty of pre-animated scenes

Supports media imports from user computer

Can be integrated with pixabay for copyright-free images

Offers tutorials to help new members learn
3. PowToon –
As long as you know how to make a PowerPoint presentation, you can create an impressive, professional-looking explainer video using PowToon. That is how easy it is. It has a smart, user-friendly interface with PowerPoint-like drag and drops features. Additionally, you can choose among multiple animation styles.
Other features:
Comes with a built-in music library for royalty-free music for the video

Provides multiple options for aspect ratios and sizes

Has a free version with useful features

Users can upload the video to media channels directly.

Comes with presentation tools
4. Biteable –
Biteable is one of the popular software in this context. Its intuitive interface, multipurpose application, and extensive media content library attract many users. The software is perfect for those who are new at video production. The best part is that you can use it to create presentations, infographics, social media video content, etc.
Other features:
Supports unlimited edits and shares

Customer watermark, premium support, etc., supported in the premium version

Offers template suggestions according to video requirements

Can upload suitable media from computer

Contains high-quality graphics
5. Moovly –
Moovly is a SaaS-based software that makes it easy for amateurs to create video content. Its feature helps make explainer video animations and can be utilized to make intros, infographics, YouTube videos, etc. Additionally, it comes with a video automation feature that makes distribution easy.
Other features:
Contains 500,000+ media resources to choose from

Comes with a powerful cloud editor: Save your work on Moovly studio

Has developed its beta WordPress extension

Includes a wide variety of features and tools

supports customization of subscription packages
6. Renderforest –
Renderforest is an easy to use, multipurpose, online platform that helps you create engaging video content, graphics, logos, etc. This software's existing users highly recommend it because of its affordability, quality, and customizable features.
Other features:
Has a user-friendly interface

Consists of a wide range of templates that cover various business sectors

Comes with a library that contains numerous royalty-free media resources

Provides users with advanced collaboration ability

The software is significantly feature-rich.
7. Toonly (Premium) –
Toonly correctly serves your purpose of creating high-converting content such as explainer video, especially if you are not a professional designer. It comes with simple drag and drops features, enabling you to create beautiful, professional-looking videos without any difficulty.
Other features:
Has a super simple and intuitive interface

Supports multiple implementations

Can easily export high-quality videos upto 1440p

Tutorials are available to assist new users

Users can upload recorded voice-overs from their computes
8. MySimpleShow –
This software highlights that you do not have to download any tool or software on your computer to use it. You can directly go to the website, mysimpleshow.com, create an ID, and put in your video requirements to get suitable template suggestions. 
Other features: 
Users can add subtitles

enables users to upload recorded voice-overs

Advance features help to balance the volume of sound effects, voice-over, music, etc

It contains an unlimited amount of pre-animated videos and templates

Contains both basic and advance features
9. Animaker –
Animaker is another SaaS-based software that makes it super easy for newbies to create explainer video animations. Since the solution is cloud-based, you do not have to worry about saving your creation. It also boasts of a drag and drop feature, which increases user-friendliness. 
Other features:
Contains a wide range of animated characters: 2d, 2.5d, 3d, etc

Users can include exceptional visual effects with its feature-rich tools

It also supports features like text-to-speech.

Comes with 170+sound effects and 50+ BGM

Supports imported voice-overs and music from external sources
10. Vyond –
Another user-friendly and feature-rich software for explainer video animation is Vyond. It has an optimized flow and contains hundreds of built-in templates and other media resources required to create an attractive video. With its drag and drop feature, it becomes so easy to make the videos.
Other features:
Supports collaboration so that users can use assistance

Comes with color changing to match the brand

Users can export high resolution videos: as high as 720p, 1080p etc.

A large variety of media assets fulfill specific user needs.

A simple model of operation makes it easy to guide the editors.
Choose your software for explainer video animation tool –
When it comes to the listed softwares, all of them are incredibly competent. They are almost of the same quality and serve you just as well. However, there is a difference among them in terms of subscription packages. Some are more budget-friendly than others.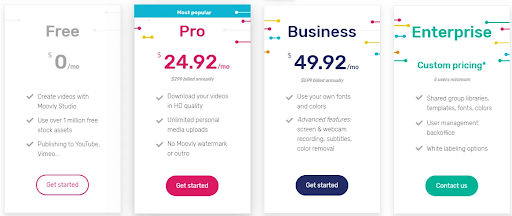 Source: saasworthy
Most of these will allow you to take a free trial. The best way to decide would be to give a trial run to the one you prefer and then determine if it can sustain and fulfill your requirements. It all depends on your convenience. 
Also Read – How to Choose the Best 4K Video Editor for PC