Samsung Galaxy Foldable Smartphone in 2019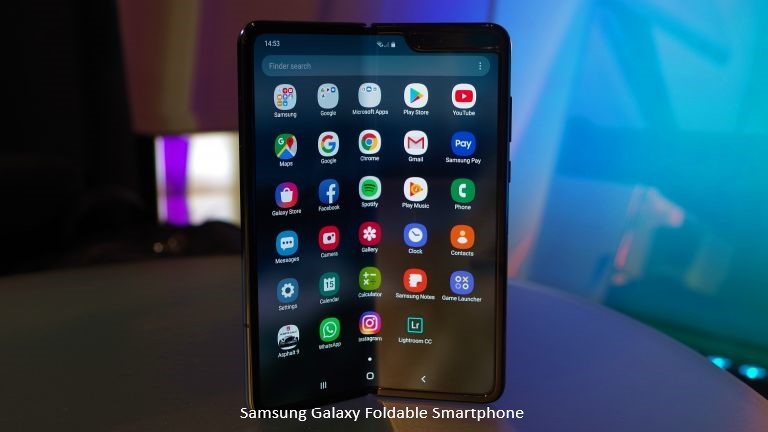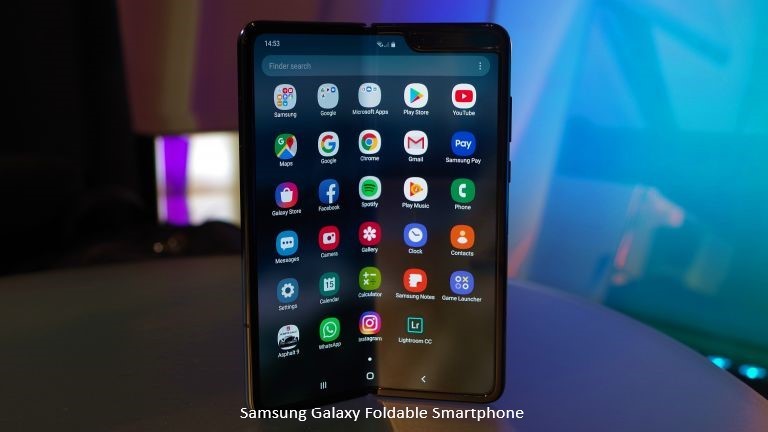 Whole mobile world had been waiting for Samsung Galaxy Foldable Smartphone from the beginning of 2019 and it is here. It is officially known as Samsung Galaxy Fold. The phone boasts a massive 7.3 inches foldable Dynamic AMOLED touch screen having an aspect ratio of 16:10 like a tablet. It's a 1536 x 2152 pixels screen resolution having 362ppi. However it's not totally all screen, but have a notch in the corner sporting dual camera setup with 10MP + 8 MP (Depth sensing) sensors, great for portraits and wide selfies. Now when you fold the screen in the middle through the hinge, it shuts down to be a phone having a 4.6 inches AMOLED small screen with a 10 MP front camera at the front. All the front cameras are capable of shooting a Full-HD 1920 x 1080 video at 30fps but lack Optical Image Stablization. Although that doesn't count much for front cameras.
So no matter how you hold the phone like a tablet or like a phone, you'll always have a camera for epic selfies and the triple set of back camera for the phenomenal camera experience. Yes, you heard it right, a triple camera setup at the back with a flash. Let's begin with the first one which is a 16MP Ultra Wide Sensor above the 12MP Wide Angle Sensor. Below both of them, fits a 12MP Telephoto Camera with 2x zoom capability. Overall you can expect some good low light photos with great details and vibrant colours in broad day light. Also the back cameras are great for portraits with bokeh effects and are able to shoot 4K and 2K videos at 60fps with Phase Detection Autofocus and Optical Image Stablization.
Coming on to the body, it has aluminium metal frame with glass at the back, so a lot slippery. Under the hood, Samsung Galaxy Foldable Smartphone packs 12GB of gigantic DDR4 RAM and Qualcomm Snapdragon 855 Octa core devilish fast processor clocking at 2.8GHz at single core. And Kryo 485 + 2.42 GHz, Kryo 485 + 1.8 GHz at Quad core with Adreno 640 as GPU. So feel free to multi-task with tons of apps and play games without having a thought it will handle it all like Hulk. And you can totally rely on it's 4380 mAh quick charging battery. Thanks to UI One and Android Pie 9.0, the user experience will be smooth. Though it doesn't support 5G yet, but 4G/3G nano-sim slot is available for the network carrier. Reports suggest, a 5G model will be out soon. In addition it has Bluetooth v5, NFC, Wireless Charging and USB type-C port. Interestingly, fingerprint sensor is placed at the side of smartphone which is easily accessible and blazing fast. However the phone doesn't have an expendable memory but has a 512 GB of internal storage.
Must Read: Why Mobile SEO will play crucial role in 2019?
Biggest Drawback of Samsung Galaxy Foldable Smartphone: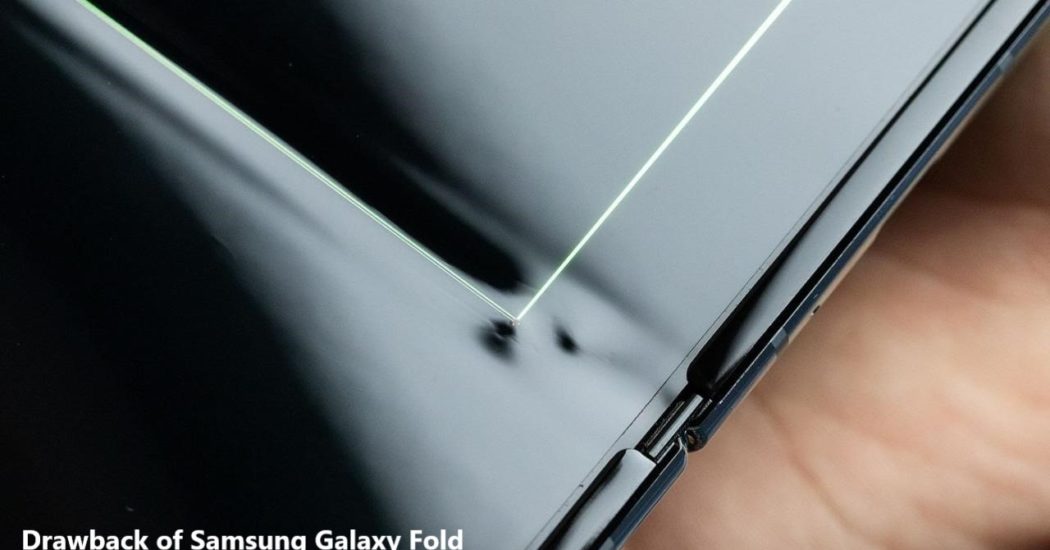 Happily these were the features of Samsung Galaxy Fold Smartphone and now it's time for the Biggest problem. The Foldable Plastic Screen. Yes the phone is a $2000 or ₹1.5 lakhs smartphone, but is vulnerable to be dead at any given moment.
Samsung says its Infinity Flex display is multi layered by innovative polymer materials to endure every fold but it possess a little gap between the screen and the display nead the folding area. Since Samsung Galaxy Fold is not Water or Dust resistant, a single grain of dust in the gap can cause catastrophic failure of a $2000 smartphone. In some cases, the smartphone reviewer found the display as a plastic screen protector and tried to remove the film which is a part of the display, resulting in damaging the display permanently.
So remembering the past, Samsung had a same design failure with Samsung Galaxy S7 in 2016 with faulty batteries and now with the Samsung Galaxy Foldable Smartphone in 2019. Therefore the smartphone is not coming back anytime soon in the market until the problem is taken care of by Samsung.
Sit tight and wait for the Fold Magic to happen soon in late 2019.
Read More: Top 5 technology trends in 2019 that will rule the future