WordPress vs Drupal: Select the Best CMS Platform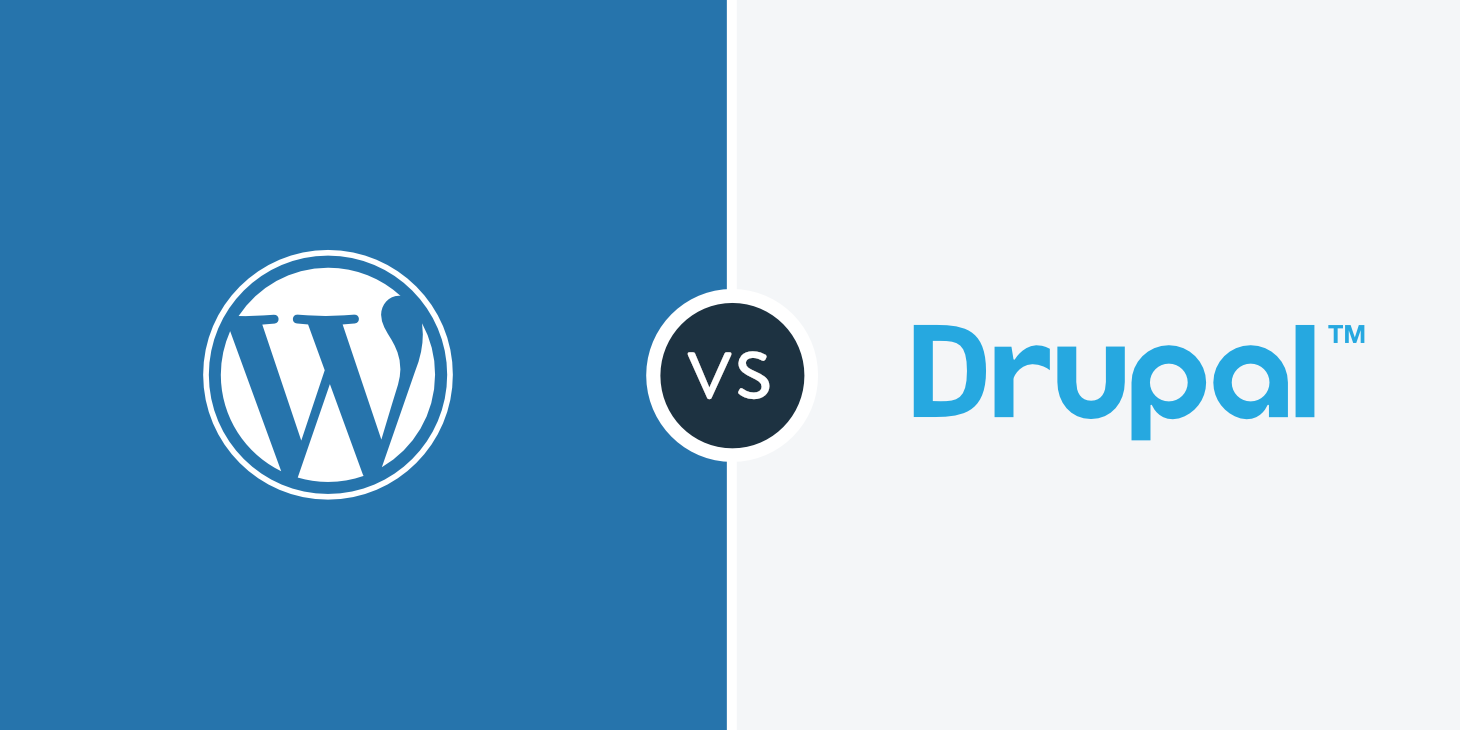 WordPress vs Drupal – Even before you start building your website, you will need to make one of the most important decisions that will affect virtually all aspects of the project. The choice of the content management system or CMS will have a deep impact on its ultimate design, performance, security, functionality, and cost of development and maintenance. Two of the world's most popular CMS platforms are WordPress and Drupal; each of them has its pros and cons that you need to take into account for deciding on which to use for building your website.
About WordPress –
WordPress is undisputedly the world's most popular CMS platform; it powers over 34% of all the websites. According to First Site Guide, WordPress powers more than 75 million websites. The main reasons behind the runaway success of WordPress are its ease of use. WordPress is free to use though you will still need a domain name and a host for the website. A large selection of themes and plugins, mainly free, is available for building in the aesthetics and functionalities that you desire while the support of a large and vibrant community ensures that you will be able to resolve any hitch very quickly. While the cost of development for simple websites is lower, it can increase when you scale it up or incorporate complexities. Because of its dependence on third-party themes and plugins, security has always been somewhat of a concern for WordPress sites.
About Drupal –
Drupal has earned the reputation for being an ideal CMS for developers who are technically proficient and looking to build a highly customized site. Even though it is as easy to install as WordPress, its complicated user interface and the need for technical skills have meant that it is largely used by specialists only and thus its market share is meager. Its advanced set of functionalities, complex customization possibilities, and robust security features make it the choice of many organizations where these attributes are very important. The principal drawbacks of Drupal are its heavier initial investment, the fairly steep learning curve involved, the nightmarish site updating process, and the technical skill-set required.
WordPress vs. Drupal Comparison –
Pricing and Investment –
The choice of WordPress or Drupal has always been heavily influenced by the cost involvement. While the cost of downloading the package is important, you will also need to pay attention to the cost of development and maintenance that comes with more complex websites.
WordPress: The package is free to download and install for creating a website. While many of the plugins and themes are also free, you will perhaps need to consider buying some of the premium ones that are priced to handle complex functionalities and to prevent your website from looking similar to many others. However, since even the priced plug-in cost between $100-200, over the long run, it does not add too much to the overall cost of developing and administering the website. Of course, if you want to hire a professional web developer, it will be an extra cost as is the cost of buying a domain name and hosting it.
Drupal: While Drupal is also free to download and install, unlike WordPress development, you will almost always need to hire a developer because Drupal is quite complex and requires advanced technical and coding skills to extract the best performance out of it. The cost of upgrading on Drupal is significant because it is not forward compatible. Therefore, if you want to move on to a higher version, you will need to rebuild your website from scratch. This means that many users prefer to remain with lower versions rather than upgrade. While they can save money, it also means that their websites increasingly become obsolete. Hosting is also an extra cost, though many affordable hosting options are available.
Also Read: Top 8 WordPress Web Development Trends of 2019
Support and Security –
Security: In the matter of security, Drupal scores heavily over WordPress. The main reason why WordPress suffers from the increased threat of security breaches is that while its core is very secure, weaknesses in many of the third-party plug-in and themes make it possible for hackers to infiltrate the system, steal important data, and wreak havoc by placing malware. Since WordPress is extremely popular and has a dominant market share, it appeals to hackers even more.
A Wordfence survey reveals that plugins were to blame for close to 60% of all cyber-attacks on WordPress websites. Fortunately, by taking some simple steps, you can protect your website better from cyber-attacks. Steps include using only as many plugins as you need and keeping them constantly updated. In sharp contrast, Drupal has always prided itself on being far more secure, even though it cannot claim to be completely so. While Drupal security systems are extremely robust, the chances of breaches are also less because its relatively low user base means it is less attractive to hackers and secondly, the number of extensions is far less, which limits the chances of security breaches.
Support: Regardless of whether you have a simple or a complex mission-critical website, timely support can mean a world of difference to the satisfaction you can deliver to your users. With its huge community of developers all over the world, users of WordPress can be sure of getting solutions to whatever problems they face in developing or operating the website. Due to the immense popularity of WordPress and the vibrant community of designers, developers, and users, you can be assured about getting all the support you require, including documentation.
Drupal too has a very active community, which together with its support section can provide solutions to all your concerns. A chat room and extensive documentation are also pluses. Additionally, you can take advantage of the Drupal Marketplace to connect with professional service providers; the level of expertise available on tap makes the extra cost worth the while.
Conclusion –
The ultimate decision of which CMS to use will depend mainly on the end-use of the website and the extent of technical proficiency available with you. The low cost and high ease of use of WordPress have catapulted it to the top spot in CMS platforms; however, those concerned more about security and the capability of handling advanced customization have always preferred Drupal.
Author Bio –

Jack dsouja has worked as an editor and writer. He enjoys mentoring young and upcoming writers and websites about various uses of social media to engineer more business traffic on business websites. To know out more about web design, SEO, Social Media, Marketing, WordPress, UI/UX visit Bigdropinc.com
Also Read: Why SSL Certificates are important for higher SEO Rankings?