Five Content Marketing Trends You Need To Know In 2019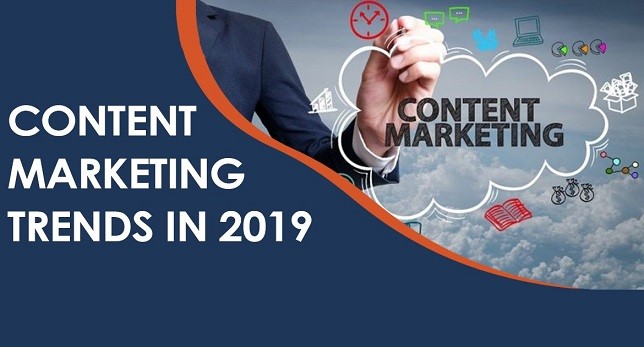 Let us find out what are the Five Content Marketing Trends You Need To Know In 2019:
Content marketing is one of the marketing strategies that can make your organization stand out in the competitive world of businesses. It is followed by many marketers to attract the audience to their brand. With that said, content marketing is continuously evolving and marketers need to stay up to date of the changing trends in the industry.
With more access to data and introduction of cutting-edge marketing and analyzing tools, it is easier for a marketer to analyze the customers' behavior and their needs to be able to implement them in your marketing strategies in order to make an impact on the audience.
In order to stay ahead in the competition, it is necessary for a marketer to understand the business to influence the audience, turning them in to your loyal customers and boost your sales through effective marketing strategies.
However, being an entrepreneur, you need to understand which content marketing trends are working best for your firm and which trends you need to tweak for effective results. Here are some trends that can help you to attract the audience.
Benefit From Partnership:
Content creation can be difficult, especially for an entrepreneur. It is true that you know about your business unlike any other person, but it is also true to say that an entrepreneur often doesn't have the time to produce good quality content. Therefore partnering with a co-creator to produce creative content is a better option.
Whether you hire a ghostwriter to write blogs, animators to animate a compelling video or work with Wikipedia experts for hire to write your Wikipedia page, a co-creator can liberate you from the hassles of creating content. You can focus on other marketing strategies or your business while letting your partner do the work.
Analyze Data To Satisfy The Audience With Content:
In order to understand the audience, you need to analyze data which can provide you an insight into the needs of your prospects. One thing that you must realize is that your buyer's decisions depend upon their emotions. With the help of data, you collected can help you to create content that can evoke the emotions of your audience. As a result, it can boost your sales and generate leads.
Must Read: What is Content Marketing? Content Marketing Strategy 2019 for business?
Adopt Machine Learning And Artificial Intelligence:
Artificial intelligence and machine learning can be defined as the ability of computer algorithms and software to understand and learn from the data collected. This knowledge enables the machines to collect more data and produce accurate, personalized and relevant results for the user.
As the data enters the machine, it produces solutions based on various factors including the changing trends of the market as well as the preferences of the audience. One of the greatest examples of machine learning and artificial intelligence is that of search engines such as Google. The more a user searches on Google, the better results it produces as Googles algorithms learn more queries and get better at delivering accurate results.
Automation In Business:
Automation is a part of artificial intelligence and businesses are using it to automate repetitive processes to allow employees to be more efficient with their assigned tasks such as the production of creative content. Business automation is here to grow, and entrepreneurs need to consider this trend as a part of their marketing strategy to be able to create creative content.
Timely Updating Content:
It is important to create updated and new content to stay visible in the clutter of the market. Your audience requires new content to stay engaged with your business. However, being an entrepreneur, managing and updating content can be a hassle. There are two ways in which you can create updated and well-research content to engage the audience.
First, you can edit and add in information in the present content to be able to save time as well as engage the audience and boost the search engine ranking of your content. Secondly, you can hire a third party business or in other words, a marketing agency to create content for your business. For example, if you have a Wikipedia page and you haven't updated your page recently, you can consider Wikipedia experts for hire to do the job.
Conclusion:
Content marketing is an essential part of your marketing strategy and requires focus and patience to achieve better results. You need to adapt to the changing trends of content marketing to better influence the decisions of the audience.
Read More: Best B2B Content Marketing Trends in 2019 Infographic