How Can Mobile Commerce Increase Your Revenue?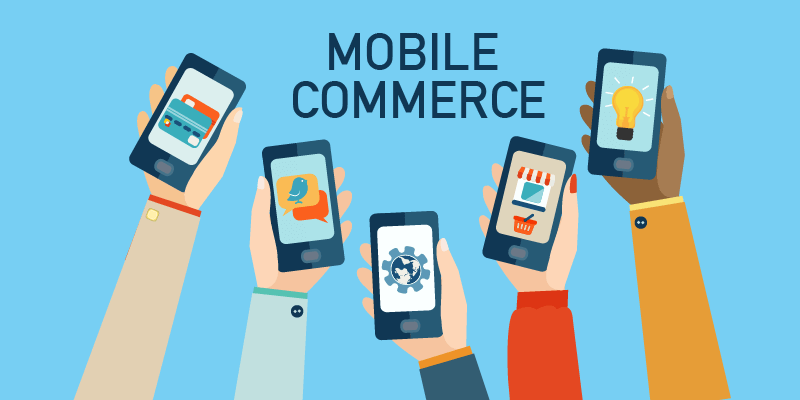 The digital age we currently live in dictates a rather fast, pragmatic, and essentially consumeristic way of life. We have conquered massive milestones in technology, which now reaches even the most distant parts of our planet. Because of this, we got used to everyone being available for instant contact through the magic of smartphones.
It is redundant to say that people devote their time to smartphones more than ever, as these are optimized to grant the best possible user interface and experience. In the last couple of years, the world's consumer demographic has changed a lot due to mobile commerce.
As shopping on-the-go using mobile phones and apps is changing the landscape of the world's economy, it is crucial to understand as many aspects of m-commerce as possible.
10 Key Statistics And Facts About M-Commerce in 2019 –
The global rate of customers who use mobile phones for shopping went up by 29.1% from 2017 through 2018.
China is the leader in mobile shopping rates. It will be the first country to pass $1 trillion in revenue collected solely through mobile commerce.
In the United States, m-commerce made up to 34.5% of all e-commerce back in 2017. In 2021, this rate is expected to be about 53.9%.
Out of all people using mobile banking apps, most of them want to check their balance and transactions, transfer money, deposit checks, pay bills, or see where is the nearest bank or ATM located.
Nearly 40% of the world's adult population, or about 2 billion people, were projected to sign up for a mobile banking app by the end of 2018.
Around 81% of Americans use mobile banking nine days per month on average, while 91% choose it over going to a bank and waiting in line.
Mobile phone users who shop using these devices typically spend twice as much money as other customers.
Mobile spending by continents is as follows. Asians use mobile shopping for 51% of their transactions, followed by the Middle East and Africa (47%), Europe (44%), North America (39%), and finally Latin America (roughly 38%).
About 253 million people worldwide used the Apple Pay app for their transactions in 2018, with an iPhone's m-commerce average order being $117.76.
Men shop through mobile phones less often than women, yet spend more per transaction. On average, men spend around $220, while women spend about $151.
Mobile commerce is, without a doubt, very convenient for both sellers and customers. Transactions and the overall shopping experience go by very fast, yet the nature and the background of developing a successful app-based store are pretty meticulous and detailed. In this article, we aim to brush over the main aspects of mobile shopping so you could easily grasp the essentials. Let's get into it.
Also Read: What are Best Mobile Development Technologies used for Mobile Apps?
The 21st Century Cyborgs –
People have gotten used to having their cellphones in their proximity so much that it almost feels like a part of their body. This comes from the fact that the global population spends a shocking average of 3 hours and 15 minutes every day on their phones. By the end of 2019, it is projected that mobile phones will fully outperform TV and other media in terms of the total time spent using various sorts of media.
This info is particularly important if you are thinking in terms of e-commerce, targeting audiences, selling out entire lines of products, and populating your service-based websites or apps with millions of content customers. The previously stated facts play a massive role in the development of full mobile-optimized stores and phone/tablet apps.
The technological advancement in mobile phones was particularly subversive in terms of changing the daily habits of people. For instance, 46% of all Americans who own a cell phone check them first thing in the morning. Around 28% of them enjoy scrolling during breakfast, and approximately 9% of users spend their largest 'screen time' portion during the night.
Due to these habits, online shopping using a cell phone came to an incredible prominence. Just between 2017 and 2018, m-commerce went up by an incredible 29.1% in three of its major forms – mobile shopping, mobile banking, and mobile payment.
The American Way –
Generally speaking, Americans are proud of the great integration of mobile conveniences in commerce, marketing, finances, etc. The rise of mobile commerce is, however, much more rapid than expected.
In fact, sales induced by customers using m-commerce make up to 44.7% in 2019, compared to 2018, when they were at a still impressive 39.6% of all e-commerce sales. That is a lot of American money spent on effortless, convenient transactions.
M-Commerce Types: Everything You Need To Know –
Let's check out the main types of m-commerce channels and how they can benefit you.
Mobile Banking –
This banking type is essentially similar to its online counterpart, with the exception of some transactions being limited to phones and tablets. Most financial institutions choose to develop their own, specialized apps offering a plethora of services.
According to the study conducted by ACCC, almost all mobile banking clients want to know how much money there is on their bank accounts or to review recent purchases or transactions (94%). These apps are also popular in extending funds easily (58% of customers do just that using these apps).
Almost half of banking app users deposit checks using a camera (48%). Nearly as many choose to pay bills this way (47%), and about 36% use GPS on these apps to find the nearest bank or an ATM.
American Bankers Association reports that eight out of ten Americans who subscribed to an m-banking service use it about nine days a month on average, and about a third of them do banking through them 10+ times per month. This is why branches do not get as cluttered as they used to because 91% of people who bank through mobile phones prefer apps over making trips to the branch.
Mobile Shopping – 
Most people using cell phones do a fair deal of shopping through these. Whether the cell phones are used for direct transactions and deposits or to boost local businesses or interests, the impact is undeniable.
Speaking of numbers, 19% of the entire retail e-commerce comes through mobile phones, with projections of that number rising to 27% by the end of 2019.
Even though they can be time and money-consuming to develop, apps have three times higher conversion rates than mobile-optimized websites, usually due to a more integrated experience for users worldwide.
The efforts and investments, however, pay off since mobile shoppers are more avid customers. On average, they spend twice as much money per transaction compared to traditional shoppers.
In the United States, people often rely on retail apps optimized for the best shopping experience. By reach, the most popular ones are Amazon (reaching 75.8% of all mobile shoppers), Walmart (40.5%), eBay (34.3%), Target (25.3%), and Groupon (19%).
Mobile Payments –
Payment apps are on a roll with the massive development of transaction technology. People rely on digital wallets (such as PayPal) or stored credit card details when conducting transactions. However, increasingly popular are Samsung Pay, Google Pay, and Apple Pay, letting you purchase stuff in a matter of seconds.
As more mobile phone manufacturers build services like these, m-commerce solutions will become available to a larger percentage of the population.
Asia-Pacific region is the leader in mobile shopping habits, with China heading to its first trillion in m-commerce revenue. Almost 44% of this country's population uses mobile wallets for most transactions. According to some estimates, 81.4% of Chinese people will get at least one mobile payment app by the end of 2019.
PayPal was one of the pioneering strategies of online payments and is still enormously popular with mobile users as well. It holds an enviable 18% of global e-commerce, with a 10% growth per annum. Amazon is, however, the absolute leader in the e-commerce world, with availability in more than 170 countries. Out of all of its customers, more than half have Prime membership.
The Clientele Conduct: Analyzing The Consumer Behavior –
As TV is slowly becoming a background noise in comparison to mobile phones, 94% of people hold their phones while watching TV. This results in integrating smartphones in their lives to a shocking amount of more than four hours a day, as per an average American.
Generally, men are more prone to using mobile apps than women (56% of men and 46% of women). When it comes to mobile websites, women generally spend more time browsing these than men (54% as opposed to 44% of men). This statistic is essential for webmasters.
Since the vast majority of these websites are well optimized and speedy, people got used to the website getting loaded within 3 seconds. If it does not, most visitors (53% of them) will leave them. Apps do not encounter loading problems that often, which is why e-commerce retailers turn to them.
Of course, security is the single most important aspect of any transaction. With malevolent people like hackers, online shops must be unbreakable strongholds. Otherwise, if potential customers feel threatened by the insecure connection, roughly 54% of them would abandon the cart.
The Future of M-Commerce Industry –
Smartphones have already successfully passed the TV obsession that lasted for nearly half a century. Both consumers and manufacturers are always on the lookout for the next big thing. The current favorite in the race to eventually surpass mobile phones are augmented and virtual reality, which will, by some projections, account for about $120 billion in sales in early 2020.
Conclusion –
Overall, it is safe to say that mobile shopping is not going anywhere. In the words of Thomas Edison, We will make the electricity so cheap that only the rich will burn candles, and the world is on its way to pursue this vision. This only means more technological advancement, a better smartphone experience, and more m-commerce.
It will certainly be exciting to see where this industry goes and how will technological progress change the mobile commerce landscape.
Also Read: 5 Major Factors That Will Influence The Mobile Apps Market In Future