What are the 12 important iOS 12 features that every iPhone users must know?
Do not miss the 12 most important iOS 12 features that every iPhone users must know.
We all know that apple has promised its users before the release of iOS 12, that this update is aimed to make the iPhone, iPad user experience more responsive, more faster and more user-friendly.
Earlier with the release of iOS 11, Apple began the operating system development for the iPhone and iPad. The latter has long been positioned as a super mobile tool for solving work tasks in cramped conditions, and last year the company began to confirm this not only with loud slogans, but also with software.
However, for me personally, for iPad the version of iOS 11 seemed too difficult and at times even awkward.
It seems that a year later, Apple realized their mistake, so in iOS 12 apple decided to separate these two sections. Now on the iPad, as on the iPhone, the Control Point and Multitasking are two separate menus that are especially convenient to use when holding the tablet.
But I don't think that Smart Keyboard users who turn an iPad Pro into a typewriter will be disappointed with this state of affairs.
Check out the 12 most important iOS 12 features that every iPhone users must know.
1. Compatibility:
iOS 11 is considered little bit slowest and most unstable versions among all Apple iOS. We started testing it after WWDC 2017 event, and even after the release of the final version, many of the beta problems remains unsolved.
The issues were slightly fixed only with the release of iOS 11.2 and iOS 11.3, but even iOS 11.4 versions did not work really well. That is why when compared to Android, the past-proven operating system has been called a really slow.
After WWDC 2018 event, rumors appeared that Apple decided to postpone until iOS 13 most of the features planned for iOS 12 and focus on speed and stability. Apple has succeeded on this.
We have already seen that iOS 12 beta 1 already works very well even on iPhone 5s, and this is only the first test version. It is difficult to imagine how the quality of work it will surprise us after the release.
2.Performance:
For the new version of iOS, developers have more focused on improving system performance.
In iOS 12 downloading the new applications will be more faster by 40%, and the system is configured in such a way that it take maximum amount of load. In iOS 12 apps will be launched 2X times faster than iOS 11. Also now the keyboard responds to actions 50% more faster, and the camera responsiveness increased to more 70% faster.
According to the manufacture, this acceleration effect will work on all Apple mobile devices, that are updated to the iOS 12.
3.FaceTime Group Calls:
Most of the people were waiting for this feature. It was believed that this feature would have been implemented in the iOS 11 version, but that did not happen. Then apple released a statement saying that the application Group FaceTime Group Calls with both video and audio will support maximum of 4 people at a time in a single video call, but the developers have exceeded these expectations, up to 32 people can participate in a single video call at any given time. The user can zoom in and zoom out to any participant in the conversation. Which, meanwhile, can hide the users face behind with an emoji.
4.Animoji: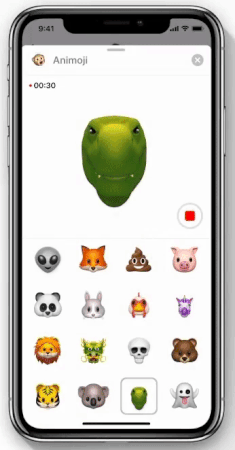 With iOS 12, apple has released new feature called Animoji OR Animated Emoji replenished with new characters named as Ghost, Koala, Tiger and Tyrannosaurus. These Animoji's are more expressive characters ever. So far, animoji is available on the iPhone devices such as iPhone X, iPhone XS, iPhone XS Max, iPhone XR.
5.Memoji:
 Another feature apple has released with iOS 12 is the so called Memoji, through which user can create a Memoji of himself, which means a cartoon like character based on his or her face and body language. In other words we can say that, this avatar will closely match with the reality of users face.
6.Augmented Reality AR:
In iOS 12, developers can work with three-dimensional images, as well as create more optimized 3D applications. A new file format is introduced for 3D objects USDZ AR. For example, with the help of Measure application present in Apple Store you can measure objects in the real world by simply pointing to them with camera. Augmented Reality objects can now be sent via iMessages and Mail, and can be viewed in the real world.
7.Screen Time: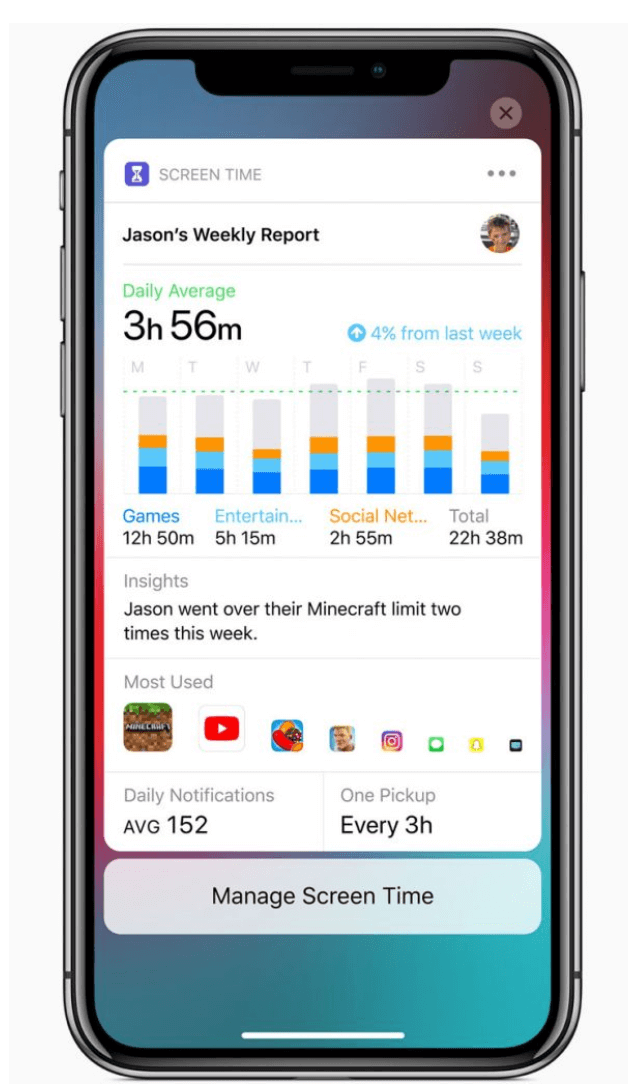 Screen Time function in iOS 12 helps you to get better understanding of the time you and your kids are spending on apps. One of these was the time control of the use of specific applications and the device as a whole. With it, you can set the number of hours or minutes you want to spend on any app like Facebook, on Instagram or reading Twitter.
Moreover, this function in iOS 12 makes it possible to control not only yourself, but also your children use on apps. You can remotely set the number of hours your child will play on the iPad, after which it will receive a notification that it's time to close the application.
8.Notifications:
Over the past few years, the number of notifications has significantly increased in phones, and this menu in the mobile OS has not changed much. It turned into a real dump of dozens of incoming messages getting stuck in the lock screen of a phone, so it was confusing which message is important and which ones we can avoid.
But everything has changed. Now in iOS 12, the Notification Center has been re-designed, which received not only the grouping of incoming by applications, but also the ability to quickly manage without going to Settings or unlocking the phone. For example, now you can turn off notifications directly from the lock screen or turn off the sound of their upcoming notifications.
9.Silent Mode:
In the new version of iOS 12 for iPhone, a silent mode is present, when turned on, even notifications will not come. This mode can be enabled, for example, at night. Or at an important meeting.
This silent mode main feature is not to turn off the sound. It is very important that notifications should not appear in lock screen and remain as hidden.
If at night you suddenly wake up and climb into the phone, find out how much time, then dozens of notifications from social networks or messengers will not meet you. And you will not be tempted to check them.
10.Redesigned Photos App: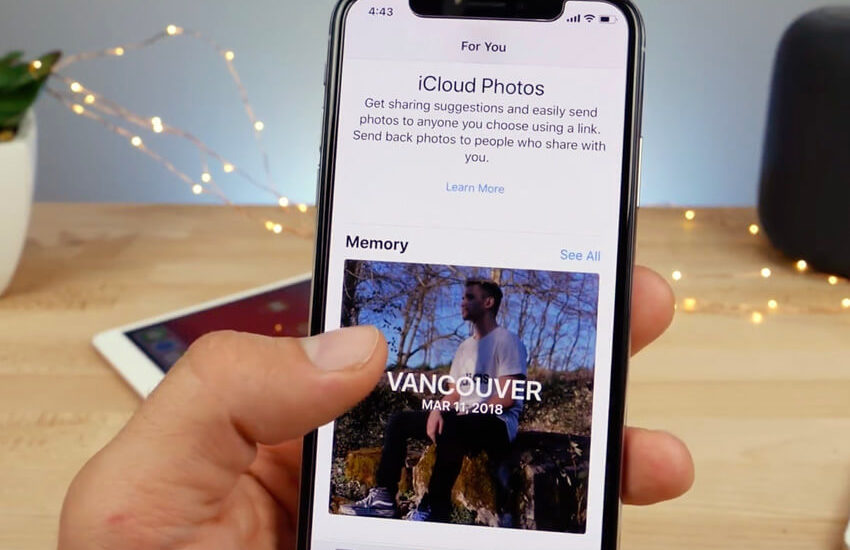 In iOS 12 the Photos app is becoming more and more interesting from many different aspects. It is already beginning to be a real competitor for Google Photos, although earlier I considered it completely different. What makes it interesting in iOS 12?
The photos albums in the Photos app are redesigned. Now photos will be displayed in two lines with horizontal scrolling. Apple has put on a search engine and machine learning feature, which allows you to find photos not just by keywords, but also by context. It's really great to have this feature!
Also it has become very convenient to share photos from trips or events with friends. You can send them pictures via iCloud, and they will immediately receive a request to send theirs from the same location in response.
11.Shortcuts with Siri:
Since Apple was planning to do with an interesting acquisition, but today everything has fallen into place. It becomes the basis for Siri labels, which will help activate any actions given to phone with voice commands.
With iOS 12, you can intelligently combine all daily tasks that relate not only to embedded, but also third-party software in the script and activate them just with your voice. While it practically does not work, but it sounds great.
For example, if you want to make a call to someone, just say "Hey Siri, and tell the person's name whom you want to call, the call will be made. But to make this feature work see to it that your phone is connected to the internet.
12.Redesigned Apple Store:
In iOS 12, the Apple store app is redesigned which makes it more user friendly and responsive than it was previously in iOS 11, The apps like apple books, apple music, stocks app all have redesigned to give you a fresh and impressive look.
The apps like Apple Books has been redesigned so that you can discover new books from the Reading Now tab. And there is also a new Book Store for you to browse, buy and organize your library of books collections you choose to read.
The Stocks app also has been redesigned so that you can view prices at a single look through a customizable watch list. When you tap on a stock app, you will see interactive stock related charts and business stories from Apple News.
Apple news feature has also been updated to give you more easier way to navigate and browse news you wish to read.