What Are The Best Android Apps You Should Know in 2019?
In this article we will see what are the best android apps you should know in 2019?
Now a days we use apps daily in our day to day activities, also the life without a smartphone has become almost impossible. The importance of Apps have increased and it will increase in coming future also. Now we have two different platforms for the apps, one is the iOS and another one is Android. Today we are going to discuss about the Android Operating System (OS) used in the smartphones.
So now the question comes basically what is Android? Android is a mobile operating system designed and developed by Google. It is based on a modified version of the Linux kernel including open source software, and is designed specifically for touchscreen mobile devices such as smartphones and tablets that supports android. Android is one of the best-selling Operating System (OS) worldwide on smartphones since 2011 and on tablets since 2013. As of May 2017, it has crossed over two billion monthly active users, the largest installed base for any of the operating system in the world, and as of December 2018, the Google Play store has featured over 2.6 million apps for its users.
Truecaller:
You can use Truecaller in several ways like find callers name and phone number, block the spam contacts and SMS also. Truecaller is one of the best app you need to make your communication safe and efficient.
WhatAapp Messenger: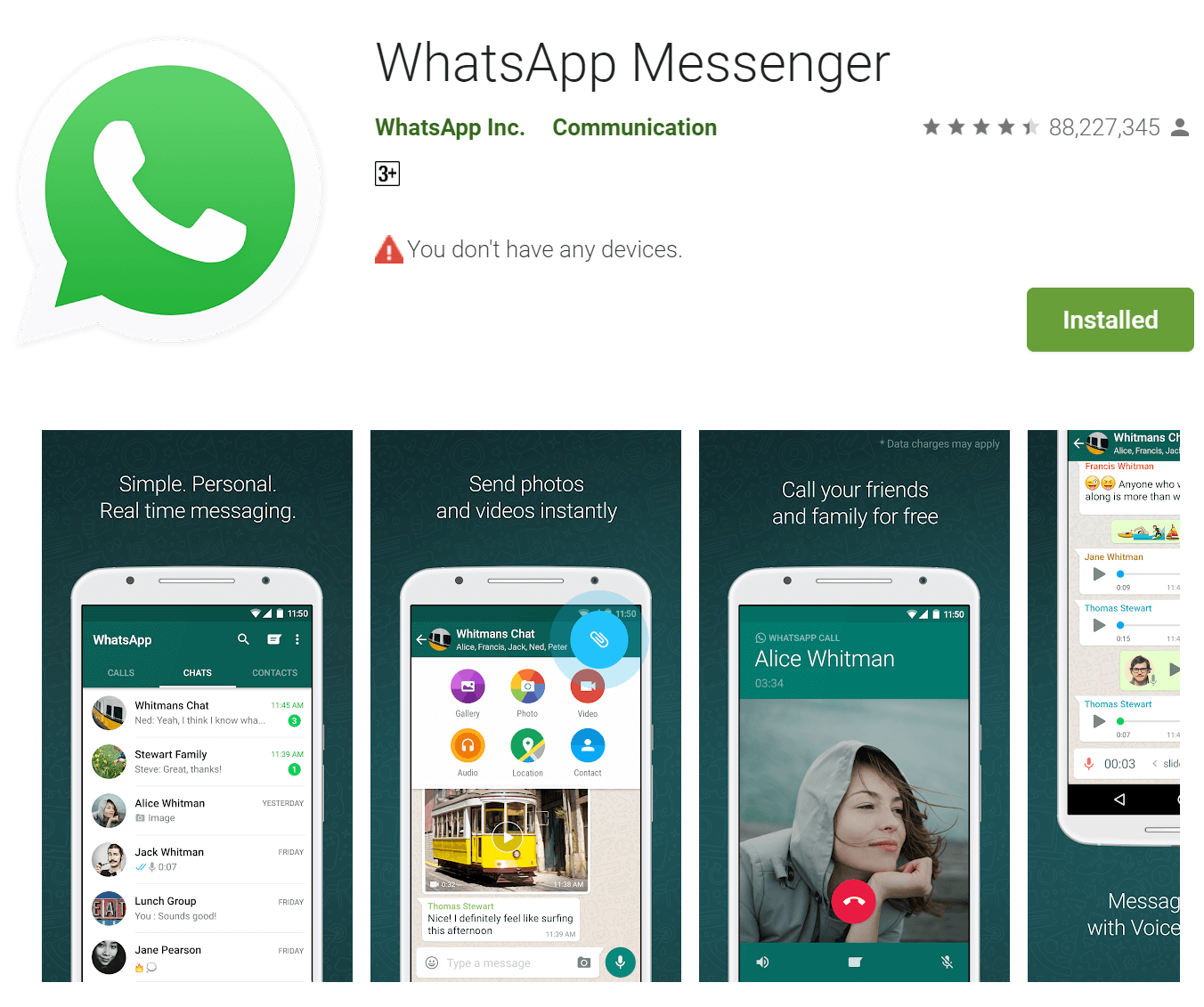 WhatsApp Messenger is a free messaging app available for Android and other smartphones. WhatsApp Messenger uses your phone's Internet connection like (4G/3G/2G/EDGE or Wi-Fi) that let's you message and call friends and family. Now you can easily switch from SMS to WhatsApp to send and receive messages, do voice calls, video calls, send photos, videos, documents, and other voice messages etc.
Facebook Messenger:
To use Facebook Messenger you need to have 3G/4G or a Wifi connection so you can directly chat with your friends who are on facebook, you can send and receive photos, you can use stickers and other GIF's to express yourself more. You can send voice messages, do video chats, share your location and play games as well with your friends who are online on facebook.
Instagram: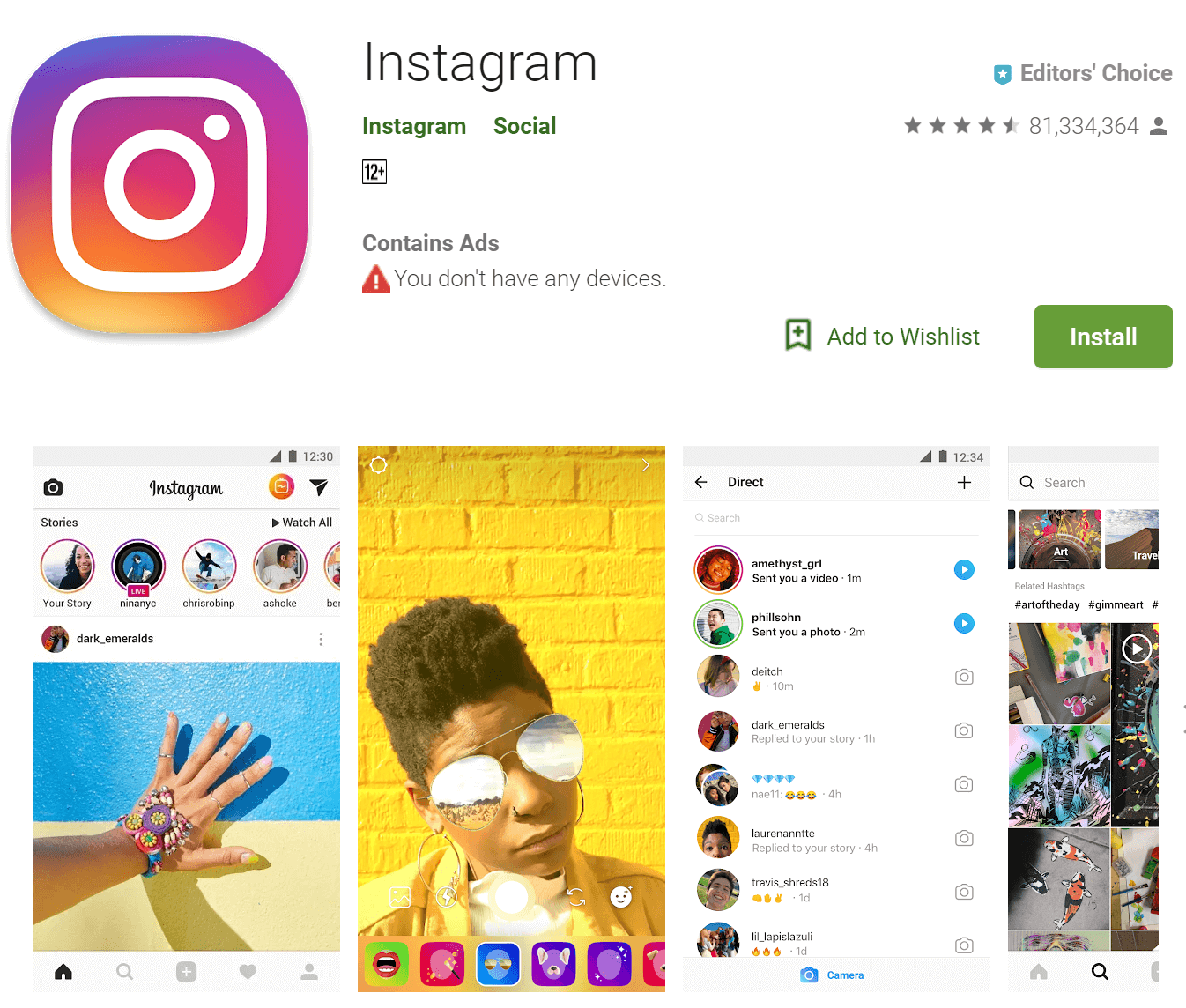 Now a days Instagram is one of the most popular app people are using worldwide. Instagram makes it easy to capture and share your pics. Now you can follow your friends and family to see what they're up to, and discover people from all over the world who are sharing things you love. Instagram has the community of over 1 billion people and you can also express yourself by sharing the moments you love.
Facebook:
We can say Facebook is one of the best social media app that people use to connect and communicate with friends and families from a decade now if i am right. Now a days Facebook has also started offering Facebook Ads which also has gained popularity and it is one of good option to choose for marketers after Google Adwords platform to promote their products or services on Facebook. Apart from this Facebook can also be used to play games online with friends, do chatting, share photos, videos directly from their phones, find local events going on nearby, a new feature called Facebook Marketplace has also been added recently through you can directly contact with the buyer and purchase the product you like.
Skype:
Skype is one of the favourite app among users which is used widely for HD video calls because of it better quality in video calling, Now we can do HD video calls in Skype with 1 – 24 members on a single call. Also we can do chatting and share our laptop or desktop active screen while working in office to explain any presentation kind of things.
Linkedin: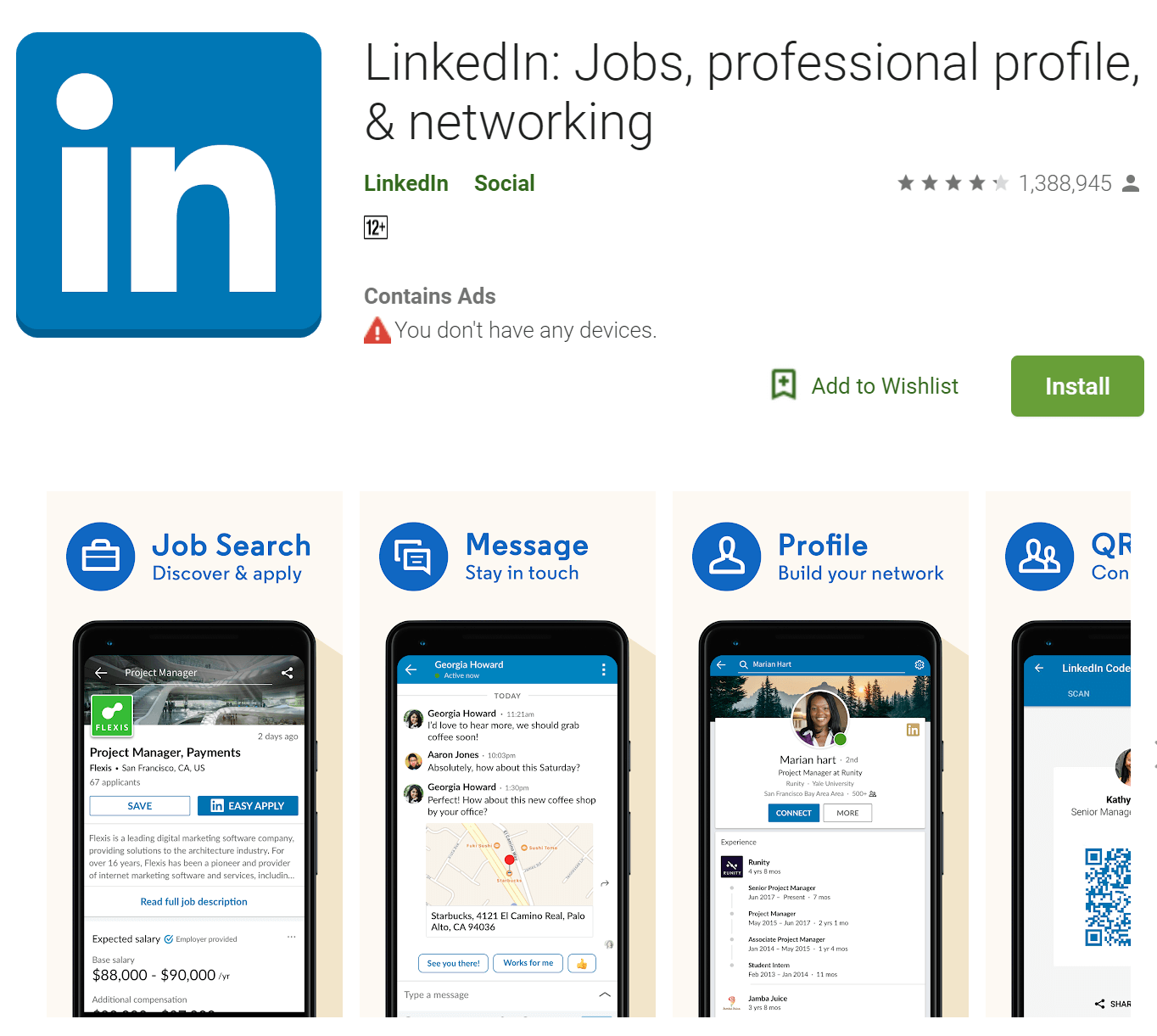 Linkedin app is mostly used by professionals who are in search of dream job, or share their knowledge with industry professionals and follow updates on industry news etc. LinkedIn offers you the easiest way to connect with recruiting contacts, professionals and companies. By using Linkedin you can create your professional profile highlight your career goals, show the skills you have perceived and communicate with the people that are related to your industry. Also you can follow the official accounts of companies for their updates as well. You can also subscribe to the groups or communities on the topics you are interested to share your knowledge and keep yourself updated. You can also share your views in the form of blog article with the option called Linkedin Pulse which can give you lot of exposure for your thoughts.
Read More: What are the 12 important iOS 12 features that every iPhone users must know?
Google Photos: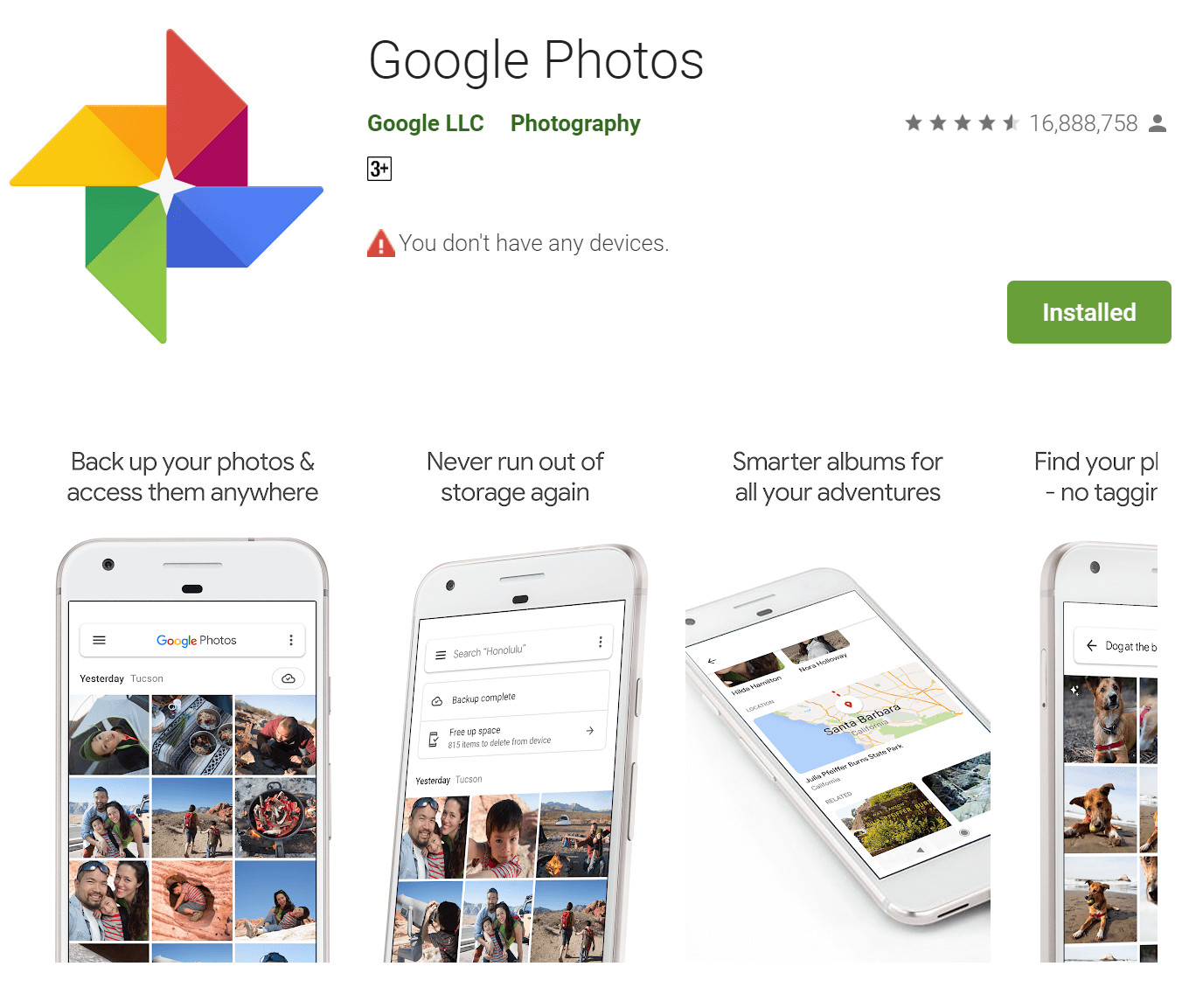 Google Photos app is the best place for android users to save their photos and videos all at one place. With Google Photos you don't have to worry about storage either as you can choose to automatically back up all your photos and videos for free in high quality. You can easily access them from any connected device or on photos.google.com.
Google Maps: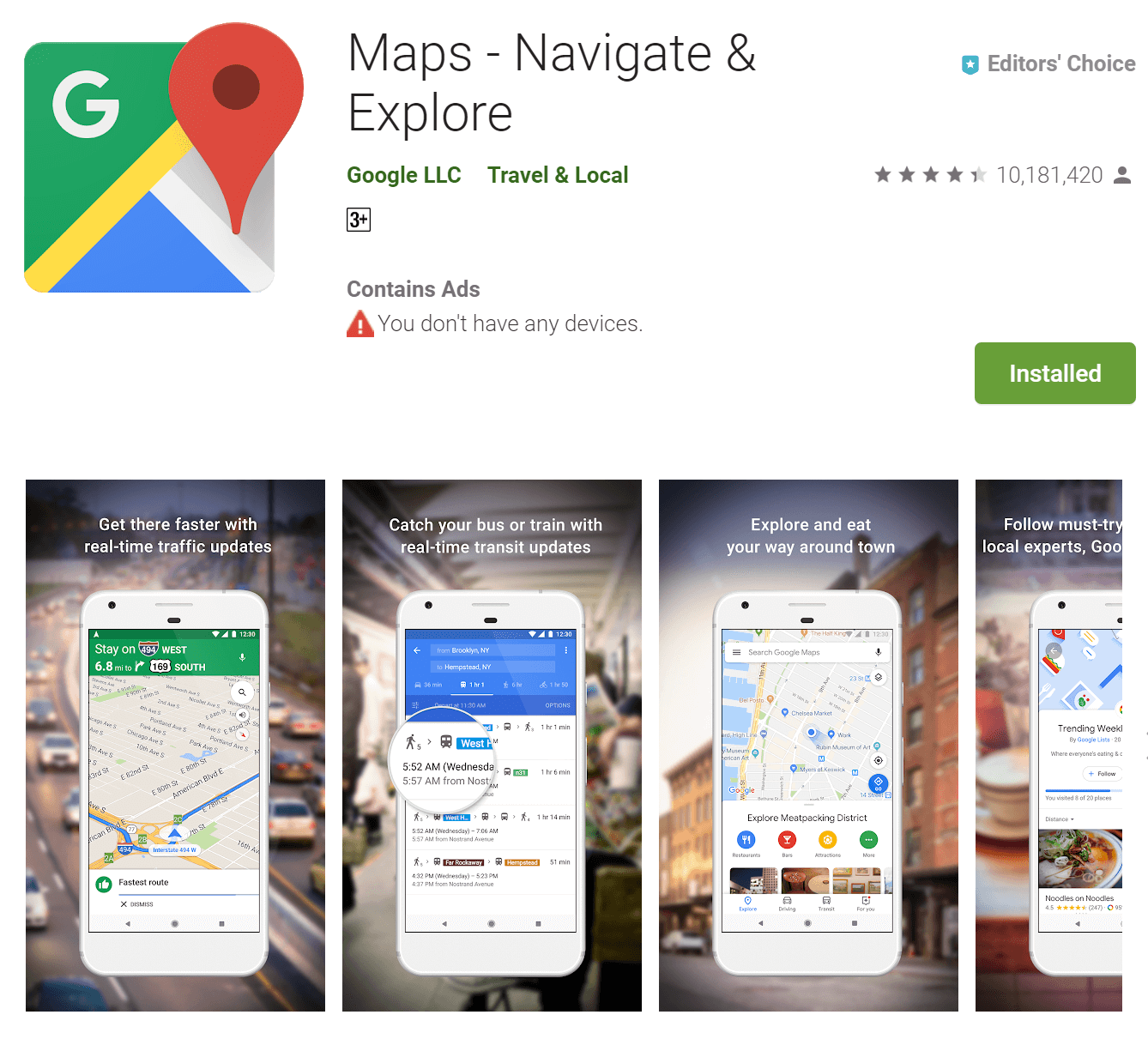 Now with the help of Google Maps you can navigate your nearby locations easily and reach your destination fast. Google Maps also give you driving suggestions while you are driving by car or commuting in a bus or you going by walk. Over 220 countries and territories are mapped and hundreds of millions of businesses and places on Google Maps. Now you can get real-time GPS navigation, traffic, and transit information also, and you can explore your local neighborhoods by knowing where to eat, drink and go, no matter what part of the world you are located.
Google Duo: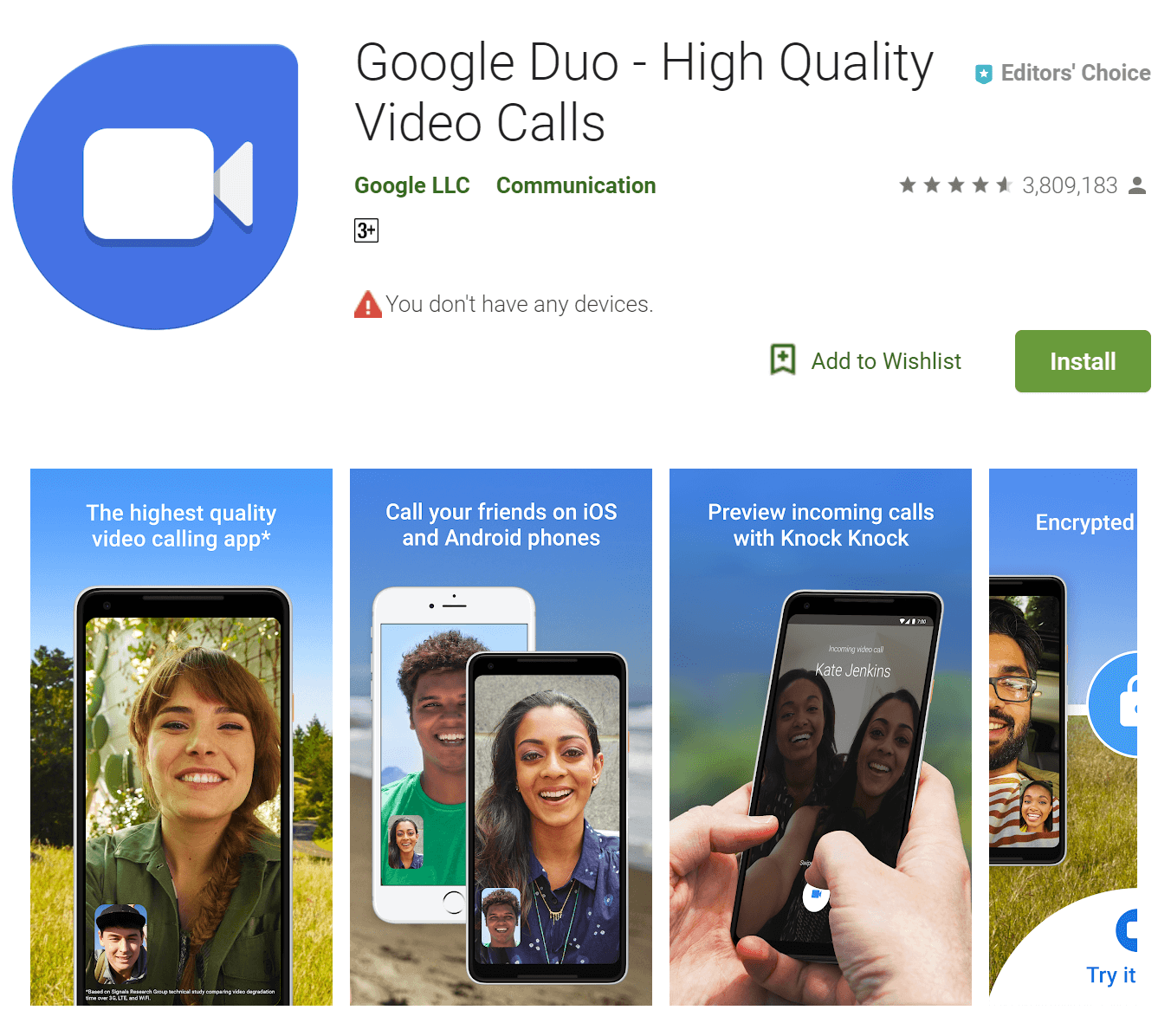 Google Duo is one of the highest quality video calling app till date released by Google. Moreover it's simple, reliable and works on all the smartphones and tablets and other devices. With Google Duo you can also do voice calling with the help of 3G/4G or a WiFi connection.
Google News: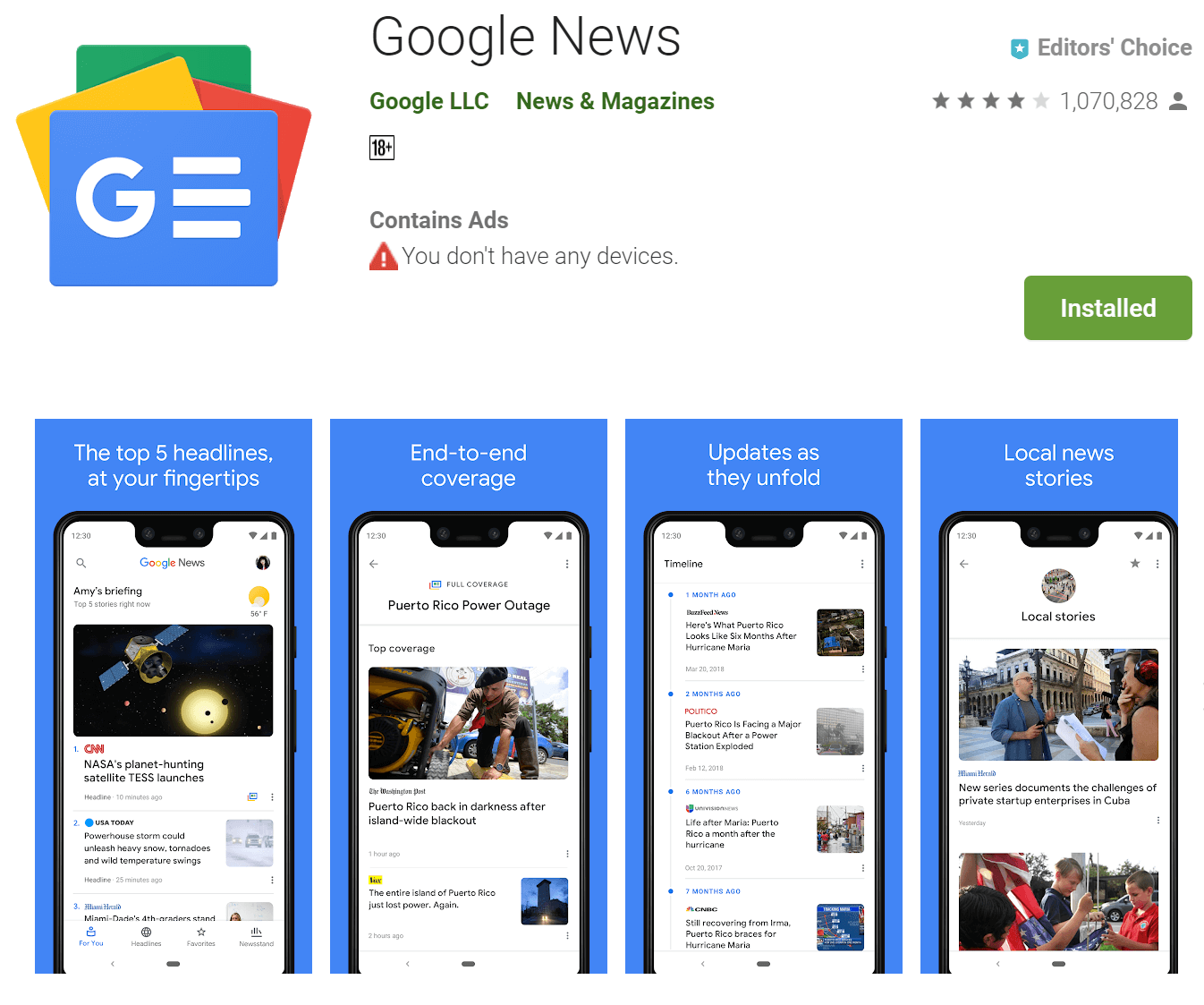 With the help of Google News which is a smart news app released by Google that organizes what's happening in the world with quick updates to help you learn more about the stories that you are interested in. Now Google News comes with separate with categories like Local News, International News etc. You can choose which news you want to read by selecting the topics of your choice as well. Now with updated Google News App you can save the news articles you like which can be downloaded over Wifi and save in your devices to read later while you are offline.
Google Drive:
Google Drive App designed by Google is the best place to save all of your important files and data all at one place. Now you can save all your important documents, images, photos in Google Drive and can access them from anywhere in the world with your smartphone or logging into your google account also. You can also share your files with your friends or colleagues and invite them to edit your document.
Google Chrome: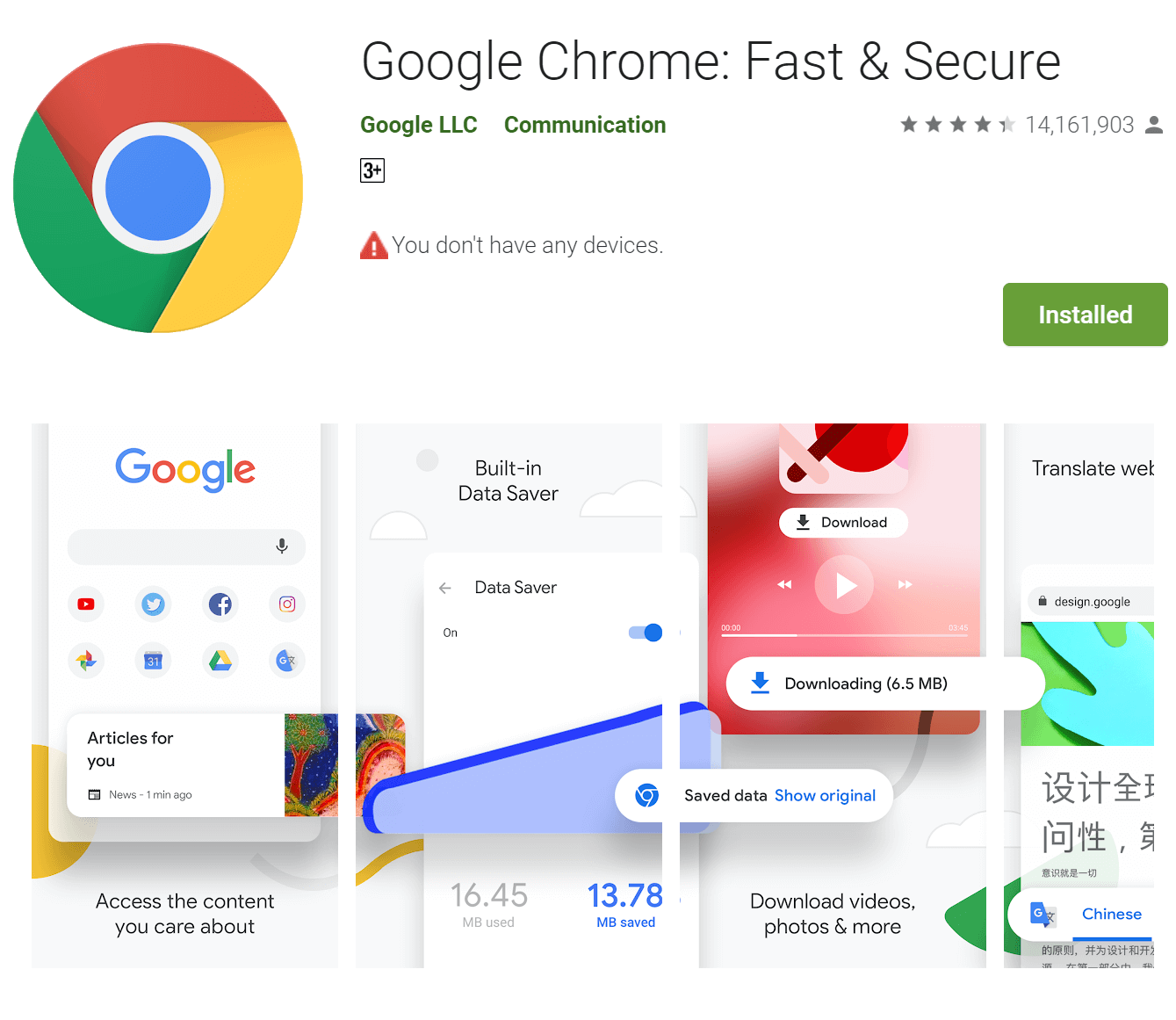 Google Chrome App is a fast, easy to use, and one of the secure and user-friendly web browser developed by Google. Best works for Android smartphones, Google Chrome shows you your personalized news articles, quick links to your favorite sites like your bookmarks, downloads, and along with Google Search option and Google Translate built-in. You can download right away to enjoy one of the fastest web browser experiences in your smartphones or other devices.
Google Assistant:
Google Assistant is one of the built-in app you can see in most of the android phones provided by Google. You can use this Google Assistant App that's already on your android phone, You can access Google Assistant just with one tap, just press and hold down your home button or by simply saying, "Hey Google." along with your instructions to the Google Assistant. With the help of Google Assistant you can make a phone call, send a message to person of your choice, Set reminders, alarms, play music, navigate in traffic etc.
Google Pay (Tez):
Tez App is now called Google Pay!!, which is another product of Google, With the help of Google Pay app you can chat with your friends and also easily send and receive money from your friends and earn scratch cards for each transactions you make, pay bills online and buy products online, recharge your phone, or pay at the nearby shops or outlets with Google Pay App which is also known as Google's digital payment app.
There are lot of other Android Apps also but the above mentioned ones are mostly used by the Android users globally.
Read More: What Are The Best Apps For iPhones in 2019?