What is Social Media Marketing? Best Social Media Platforms to grow your business?
What is Social Media Marketing? Best Social Media Platforms to grow your business?
Social Media Marketing is one of the medium through which users are brought to the site from various social media platforms like Facebook, Twitter, Linkedin, Pinterest, Communities, Groups, Forums, Blogs etc. Through Social Media one can get attention of consumers or buyers, but cannot gain the trust of audience it must be earned. Social media platforms are a like a modern tool for which can be used for interacting with the target audience. Now a days the audience of social networks is comparable to the audience of television channels, but it is more attentive and active. Social Media Marketing has more to do with network PR than with advertising. SMM is a direct medium to participate in communities that consists of huge amount of target audience. These mediums are very much helpful for direct interaction with the target audience.
What are the best social media platforms in 2019 to grow your business?
For working on perfect Social Media Marketing strategies we need such kind of tools to help reach our goals. Check out the list of best social media platforms in 2019 that will help grow your business and generate maximum ROI.
1. Hootsuite –
Hootsuite is a simple but powerful tool for automating social networks tasks, like it has the functionality which allows us to integrate our 3 social accounts at once in Free Version, In Premium version we can integrate multiple social accounts. This tool has more than 10 million subscribers, and provides a single dashboard to launch and manage all the social accounts tasks at one go.
Hootsuite platforms helps integrate well with social accounts of Twitter, Google+, Facebook, LinkedIn, Instagram and the rest. It also supports Google Analytics integration.
This tool provides real-time updates of all activities occurring on social sites that are linked within the tool. For example, wherever your brand is mentioned you will get to know exactly. It also helps help you find out what are the target audience intent. Hootsuite also allows you to find out what is the best time to publish posts or tweets for maximum reach to your target audience.
2) Notifier –
Notifier is a powerful, yet affordable, social listening tool that supports every major social media network (including Reddit and Twitter) as well as the entire internet.  For platforms that support it, Notifier can notify you within seconds of the keyword occurring. Many of its customers also use it as a better Google Alerts.
Notifier has also recently added sentiment analysis and is working on adding much more advanced matching that make it easy for you to narrow down ONLY the results you want.
It has a completely free no credit card trial to make it easy to get started quickly.
3) Buzzsumo –
For perfect social media marketing we also need to have best content to attract the target audience and for that we have a tool Buzzsumo.
If you want to better understanding of your social presence and come up with awesome content strategies, then BuzzSumo is the perfect tool for your needs.
Instead of guessing which content in your niche gets a lot of attention, this tool with the help of using keywords allows you to find the most popular messages in social media.
BuzzSumo is a type of research tool with a search bar where you can search for everything you want using a keyword or phrase.
4) Mention –
Mention is also one of the popular social media marketing tool which helps you know when and where in social networks your brand is mentioned. The information you can get from this tool will help you to perform competitor analysis, brand monitoring and more.
Mention tool connects you directly with your audience those who are already  discussing about your brand. This forces you to contact them and answer their questions right there. Such a high level of participation gives you new opportunities and keep your sales at the top level.
Though there are a lot of tools, Mention is best among them because it provides more accurate data and also produce more social transformations than other tools in the market.
5) Buffer –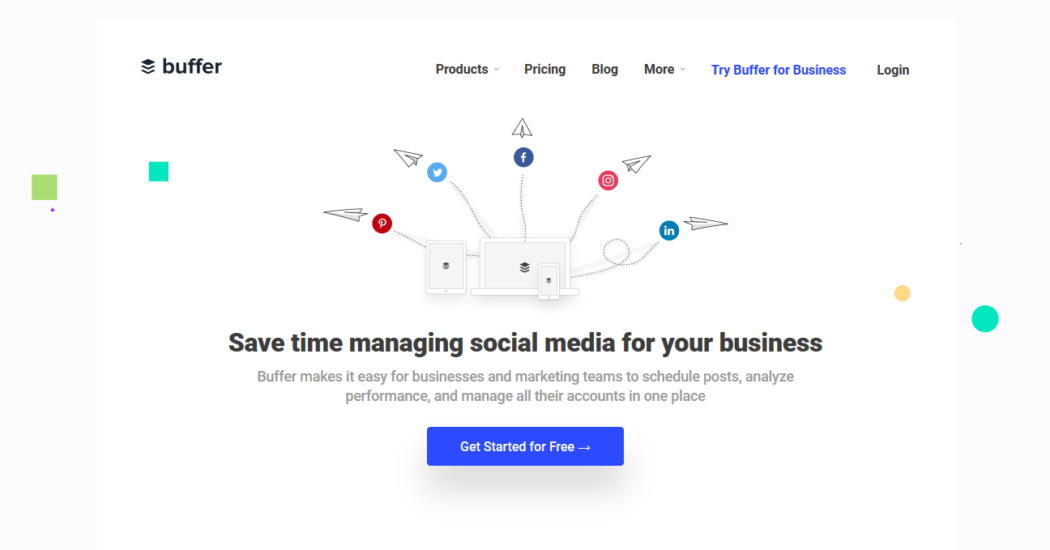 Buffer is the ultimate social network tool for anyone who deals with a lot of content and want to post on social networks. This tool handles scheduling just like Hootsuite, but the best part is, They have enough analytics data and also offers the best time to publish content.
Buffer tool provides useful insights into how your strategies on social networks come up against the strategies of competitor brands. They also provide unique benefits from automation and UX perspectives adding content to it is easy especially with the browser extension. There is a panel that will help you understand what you need to complete as follows: description, image, social networks for publication and specific moments when the message will be sent.
The Buffer tool interface is very much user friendly and has only the necessary tools. Buffer tool is updated regularly to keep up with the ever-growing demands for social networks platforms.
6) Sprout Social –
If you are looking for a comprehensive set of social networking tools with many awesome features, you should try Sprout Social. You can use it to schedule your posts or tweets, monitor competitors status, track your keywords, identify your references and analyze your statistics and compare your metrics with competitors.
Sprout Social tool is best for those who need to work on social media marketing. Sprout Social tool is user friendly, affordable, and serves small businesses, agencies, and businesses. There is an option to work on a free trial version, and no credit card is required for registration.
What kind of tasks are accomplished by Social Media Marketing?
Brand promotion of products or services, Branding.

Increase Trust, Loyalty among target audience.

Increase PR of a company.

Gain attention of target audience on regular basis.
No doubt, Social Media Marketing is still an awesome promotion tool, but in today's date its the most promising one. SMM is in demand both by large companies and market leaders, as well as by small and medium-sized businesses that use SMM to promote their business online and establish contacts with their target audience.
What is the successful Social Media Marketing strategy for any business?
You must have a user friendly website design, also try to create blog about your business on various platforms available like blogspot, tumblr, medium.com, hubpages etc.

Promote your blog in various platforms like facebook, twitter, linkedin, pinterest, communities, forums, blogs etc.

Post educational and informational type of content in your niche communities and discussion sites, also respond to the comments received.

Work on related or niche forums, interact with the users and conduct discussions or questions related to your business.

You can also do direct advertising in niche communities based on audience interests.

Viral Marketing: You can also make creative advertisement about your product or service and promote through youtube.

Regularly monitor the positive and negative information, reviews about your business online and respond to the users concerns. Try to create a positive vibrations about your company.

Overall monitoring and maintaining the company internet resources for social media marketing.
Social Media Marketing does not give instant results, but gives you a long term benefits, provided it is correctly done keeping in mind targeted audience. The main advantage of SMM is the low cost of investments compared to the bulk amount spent in various social media marketing campaigns.