Why is iOS More Secure For App Creation Than Android?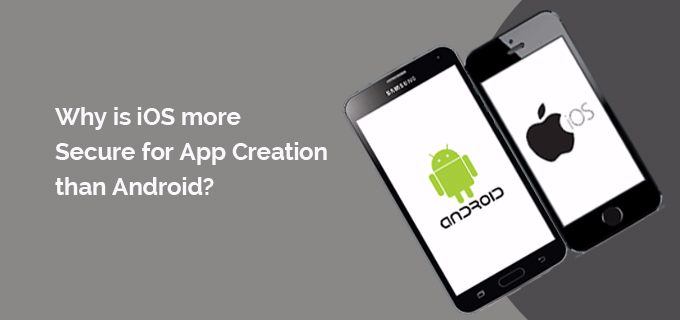 Why is iOS More Secure For App Creation Than Android?
The rivalry between Android and iOS, or Apple Phone is never-ending. Nobody is right or wrong, but these two in the mobile world are not giving up, they continue to outshine each other. iOS and Android app development services continue to soar as the demand for both operating systems continue to soar high. 
When it comes to security, still in the minds of users and companies is what is more secure, Android or iOS? Nothing new in it really. Ever since, the world has been competitive, whatever the industry vertical may be. 
Competition isn't only limited to organizations or mobile app developers, but you also find a cold war among fans. By leaps and bounds, it appears that the two giants in the industry are set to create an evolution such as never before. Anyway, back to the issue of security.
Also Read – Important Qualities To Check Before Hiring iOS Developers
Let's find out why is iOS more Secure for App Creation than Android –
1. Not Very Flexible –
Apple's phone is less flexible than Android, meaning that Apple does not allow users to change their iOS. With this, Apple has complete control over the operating system, making it more secure than ever. In Android, users could alter the source code to change their mobile's behavior, which makes the OS more vulnerable to virus attacks and instability.
2. Closed-Source Operating System –
iOS restricts a user to download apps, even videos and music from sources unknown. Apps could be downloaded only from the App Store that contains only the apps approved by Apple. Thus, any harmful and third-party applications could not be downloaded on your phone. 
On the other hand, being open-source, Android lets you download an app from unknown sources. Furthermore, Google is less strict with the applications on the play store. For these reasons, iOS is more secure than Android.
3. Default Apps is preferred by iOS –
The Apple phone is loaded with default applications, such as Messenger Mail, Safari, and so on, and does not allow you to choose default apps. This could be sort of annoying if you prefer other applications, but make the operating system more secure due to the reliability of the default apps of iOS.
4. Less Tempting Target –
When it comes to hackers, iPhones are less tempting compared to Android due to the fact that it has a less user base compared to Android user base. Thus, hackers would be more tempted to hack Android because they could impact a bigger use base. Also, hacking Android devices is easier than hacking iPhones.
5. iOS is Exclusive for Apple Alone –
iOS is exclusively used by Apple alone. Thus, they're completely in control over the devices and system. On the other hand, Android is used by many mobile companies, such as Nokia, Samsung, Asus, and so on, and every company has its various security standards. 
Thus, the iPhone is more secure in such a way that it's handled exclusively by just one company and isn't fragmented.
6. External Storage –
The iPhone doesn't support custom ROMs to be loaded on a mobile. Meaning that the memory cards, USBs, and others could not be used with iPhones. This makes for a more secure system, since any external threat is avoided, which could come with the storage. The Android platform supports external storage devices and using devices that contain viruses, which could affect the system's security. 
Why iOS Wins?
Technology indeed has come to an advanced level, but so does hacking, and cyber theft has reached another level as well. These days, hackers are more into hacking your mobile phone and tablet instead of your personal computers, and taking all critical data and information from your device. Thus, making sure that the operating system you're using is secure is paramount. 
Besides, when coming across the innovative operating systems, choosing between Android and iOS is a tough endeavor. Being exclusively used by Apple, iPhones are more secure and reliable because of its being a closed system. Enterprise mobile apps have become a huge boon for an organization and businesses since it eased out work pressure to a great extent. 
Both Android and iOS gave a fierce fight for the top place and took every step to boost their apps security. In both instances, the services of an Android and IOS app development company like Etatvasoft have the chance to create a secured place that's free from user profile data and enables installing enterprise applications. Tools like data encryption and specific VPN tunnels help secure network data as well. 
The device won't act as personal, but will be converted to a particular device to access enterprise applications. Even though both are prone to breaches in security, Android has more of its fair share compared to iOS. Again, the discussion here is the open source versus the closed source. 
iOS is declared as the winner since a lot of operating systems tend to operate at a single time, which turns out to be not secure. Apple is not easy to hack since it secures a unique technology and does not also enable viewing of data so as to create any loopholes in the security. As a matter of fact, no third-party could open its part easily. 
Aside from that, outsiders could not go through the contact list or the phone's number since it has control over the device's infrastructure. Android, on the other hand, provides you a space to go through the details. 
Conclusion –
Both Android and iOS operating systems and platforms have their benefits and drawbacks. However, one thing for certain is that iOS still is unbeatable when it comes to the security factor. 
This is due to the fact that Apple has steadfastly maintained the most stringent policies on development and downloading applications, application testing, user experience and interface, and a whole lot more. Apple has stuck to its policies regardless of any scenario and has never compromised on this issue. Thus, if your top priority is the security of your device, then go for the iPhone without second thoughts. 
Also Read – Cool Things You Can Do With Your Android Phone